Programs & Events
Calendar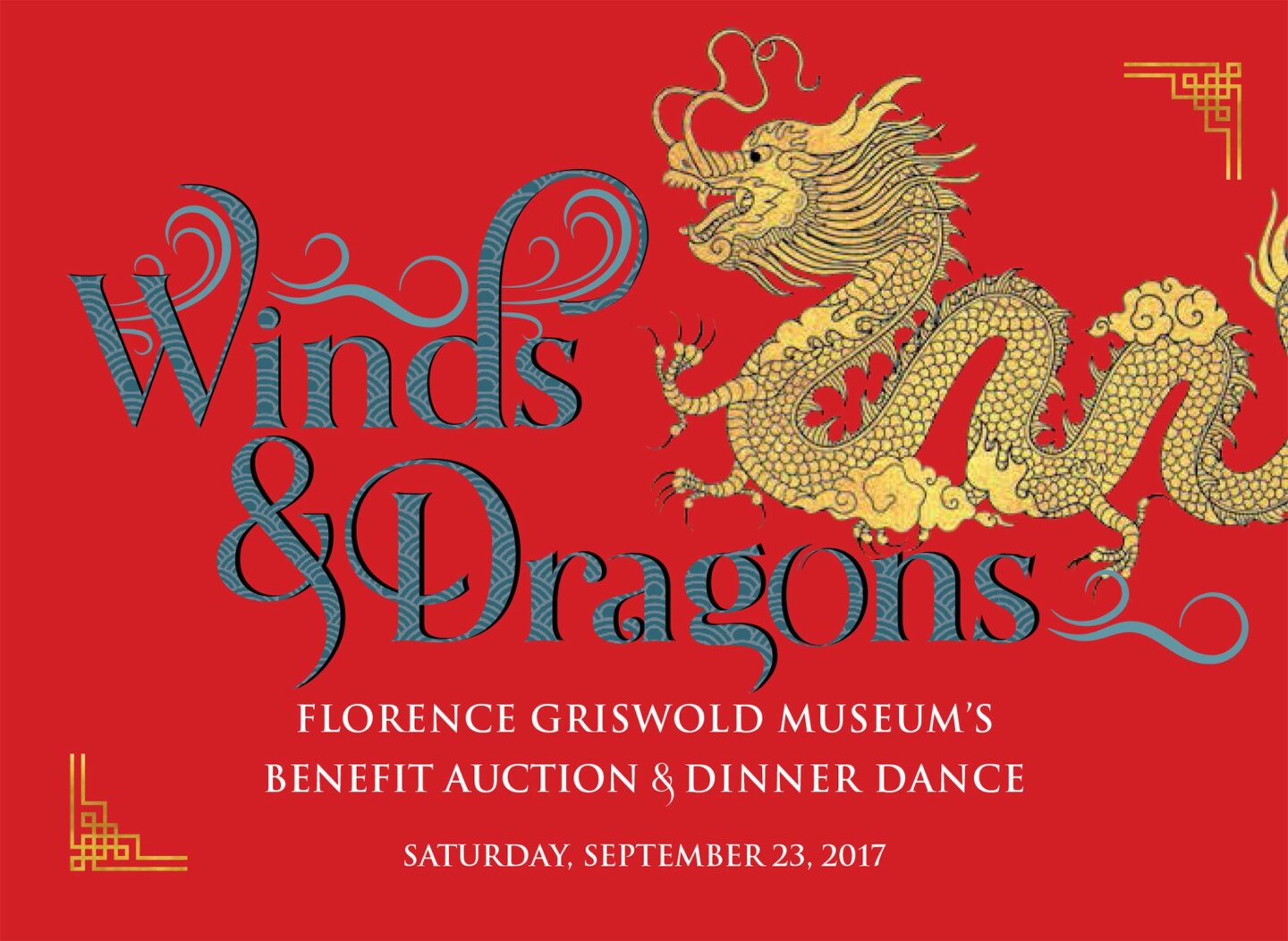 September 23, 2017 @ 6:00 pm

-

11:00 pm
Auction Benefit 2017
Sponsored by Bouvier Insurance, Imagineers, Infiltrator Water Technologies, Pasta Vita, and Webster Bank
Please help support the Museum's most important fundraiser of the year, with all proceeds directly supporting our educational programs.
For more information or to purchase tickets, please contact DeeDee at 860.434.5542 x122 or DeeDee@flogris.org
Tickets are $175 for Friend level, $250 Patron, $500 Benefactor, and $1000 Leader.
MARK YOUR CALENDARS for the Museum's most elegant and important fundraiser of the year!
Please join Benefit Committee chair Deborah Moore and Auction Committee co-chairs Diane Kaslow, Marie Martin, and Dyanne Rafal for a night you won't forget! The Museum always boasts an incredible array of art, travel packages, events, jewelry, and decorative items up for bid—all handsomely displayed within the stunning Krieble Gallery. Under a fabulously decorated tent along the Lieutenant River, come enjoy a delectable farm-to-table dinner from River Tavern, cast your bid in the spirited live auction, and dance the night away to the upbeat sounds of Eight to the Bar. This 35th anniversary celebration promises to be an evening not to be missed!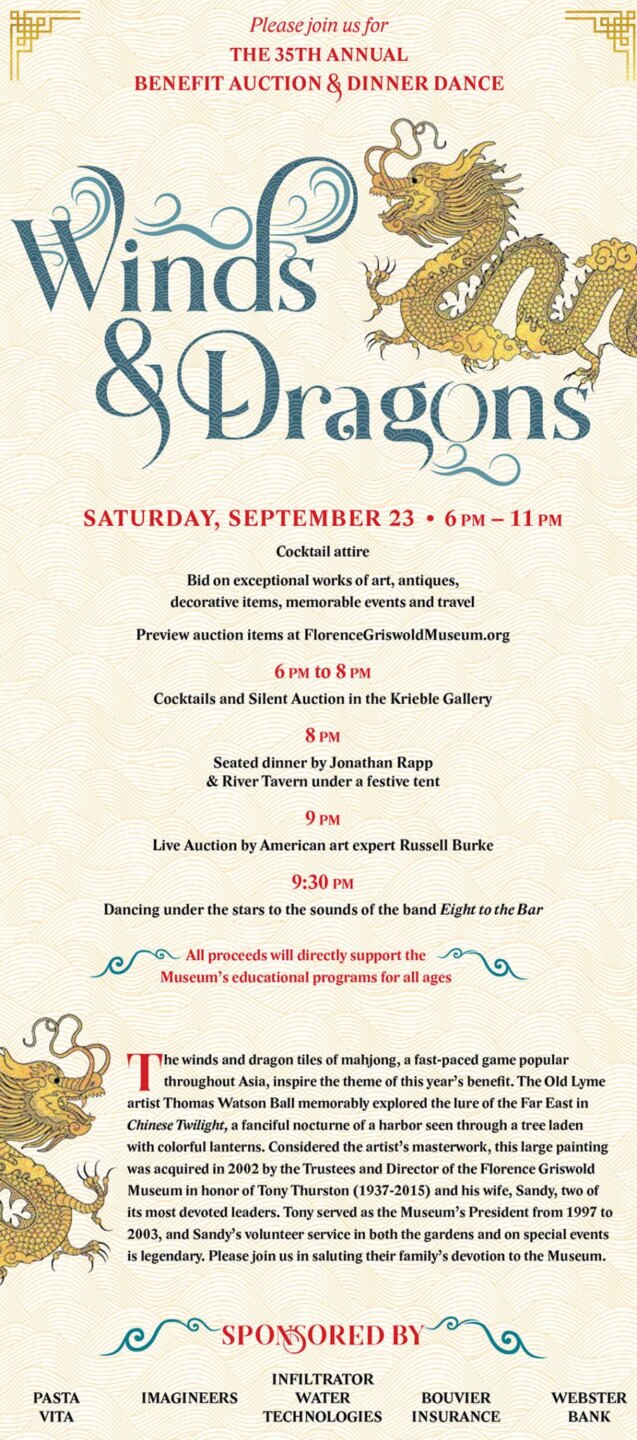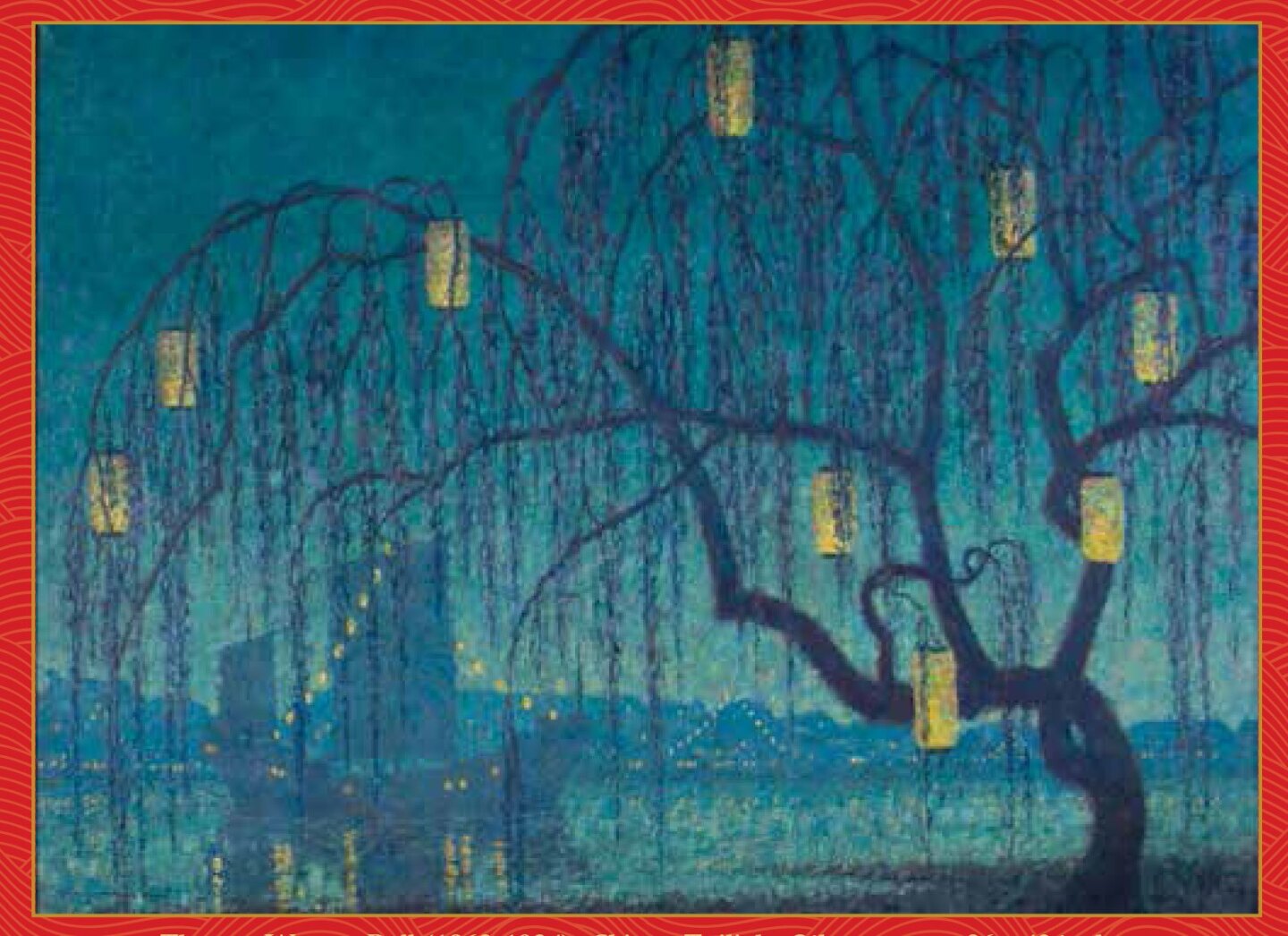 Live Auction Items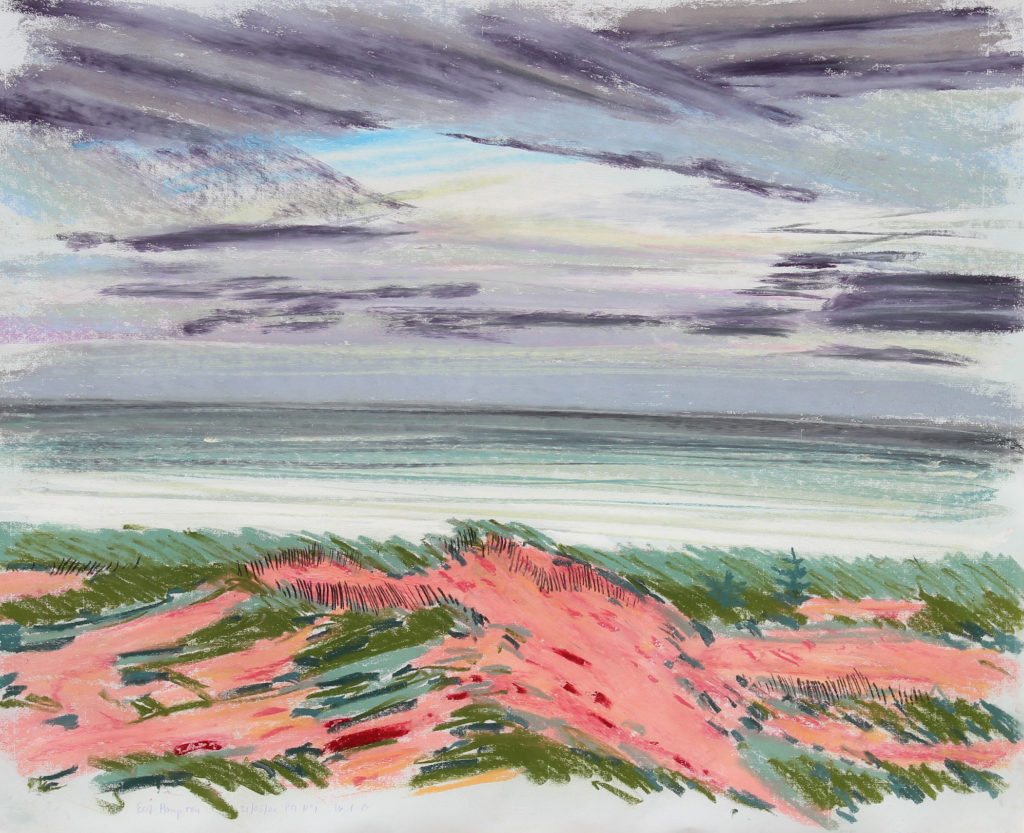 1 Christian Peltenburg-Brechneff
East Hampton
Value: $5000
Pastel, 41 x 33 1/2 inches, 2001. Born in the former Belgian Congo, Christian Brechneff was educated in Switzerland, England, and the United States. He received his Masters of Art degree from the Royal College of Art in London. He has won numerous awards, while his work appears in many public and private collections, including the Metropolitan Museum of Art and the National Gallery of Greece. This year he was the subject of the award-winning documentary film, Like Notes of Music: Christian Peltenburg-Brechneff – The Landscape Painter, a Magee production from Switzerland, which was inspired by his memoir The Greek House. Donated by the Artist
2 Persian Khamsahbaf
Value: $3604
This stunning Khamsahbaf, measuring approximately 72 x 84 inches, was hand knotted in southwest Iran by Qashqai women using handspun, vegetable-dyed mountain sheep wool. The artist's design depicts cone-shaped Cyprus trees representing immortality, pear trees representing abundance, and bent willow branches representing prayer, all surrounded by charming floral elements portraying the paradise to come. Donated by Kebabian's Oriental Rugs, New Haven, CT

3 Behind-the-Scenes Dinner with Jeff and Maureen
Value: PRICELESS!
Celebrate Jeff Andersen's upcoming retirement with an intimate dinner party in the riverfront Marshfield House with Jeff and his entertaining wife, artist Maureen McCabe. Before dinner, you and nine guests will be led by Jeff on an insider's tour of the historic boardinghouse of Miss Florence and the artists. While sipping champagne, Jeff will regale you with stories from the Museum's past including some that will hopefully never be printed! You will then enjoy a delicious dinner catered by Gourmet Galley, the caterer behind the successful Café Flo, and delectable wines by Jonathan Edwards Winery.  Here's your chance to finally get answers to those questions you were afraid to ask!  Friday, November 10, 2017 at 6 pm. Donated by Florence Griswold Museum; Gourmet Galley Catering, North Stonington, CT; and Jonathan Edwards Winery, North Stonington, CT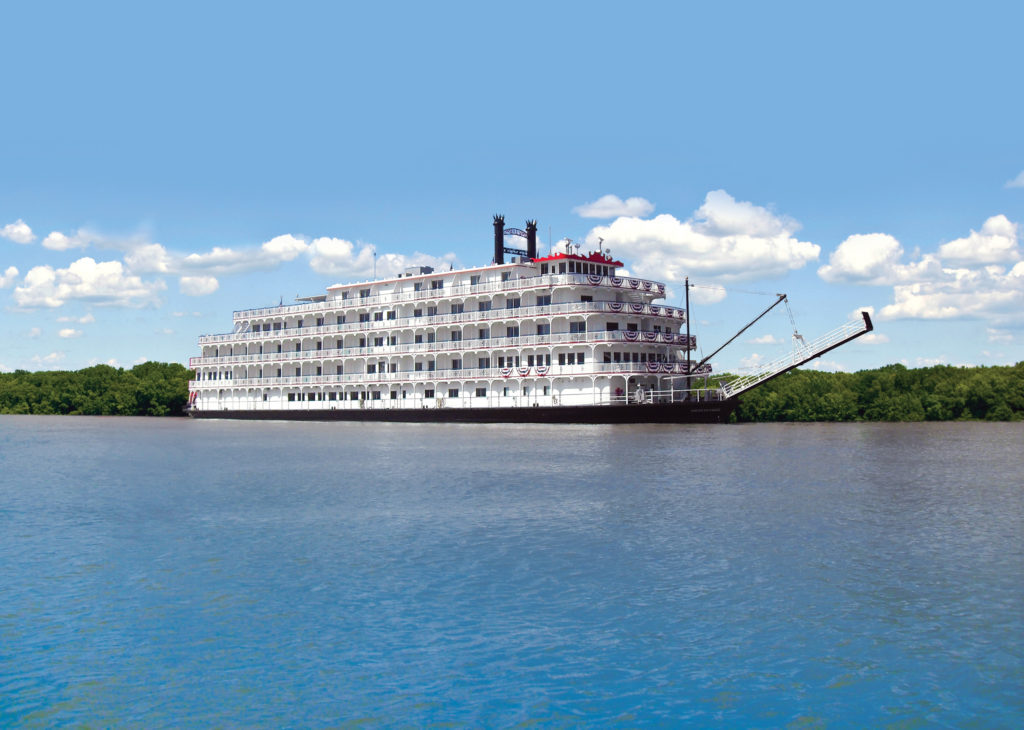 4 Mississippi River Cruise for Two
Value: $9000
Join American Cruise Lines for seven nights on an unforgettable journey along the Mississippi River. Onboard, you will experience gracious accommodations in an AAR stateroom and an unprecedented level of personalized service. On shore, explore historic Civil War battlefields, enjoy picturesque landscapes, and embrace true Southern hospitality. Valid for any Mississippi River Cruise from March – August 2018. Airfare not included. Donated by American Cruise Lines, Guilford, CT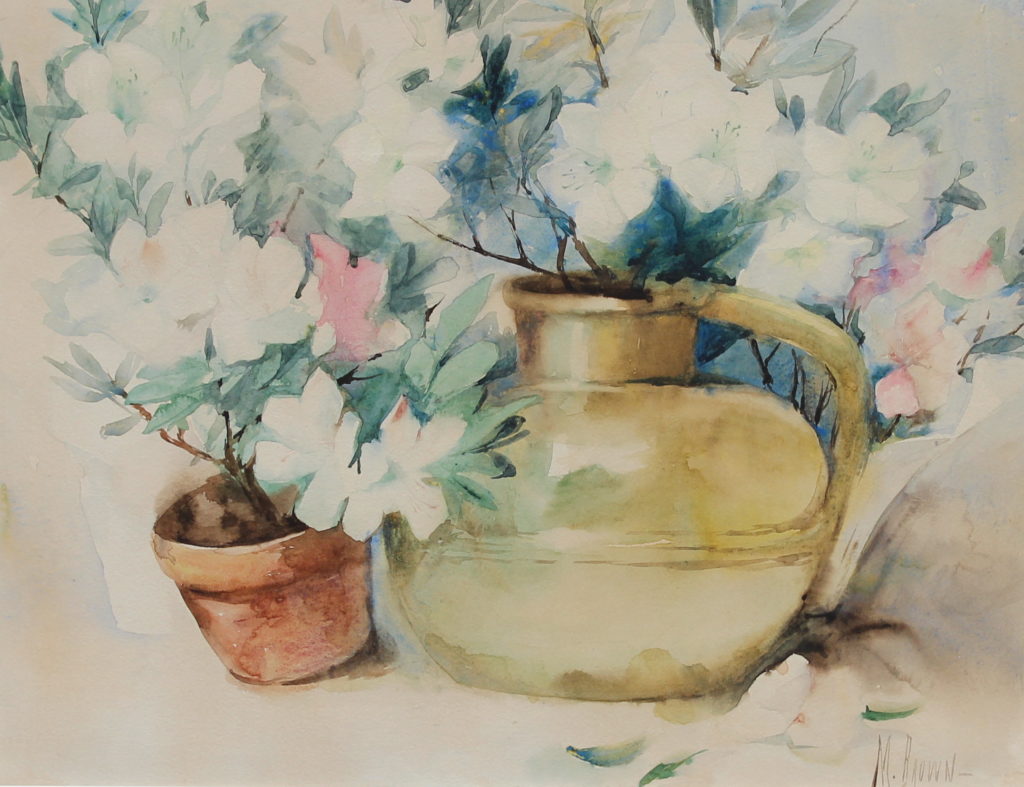 5 Matilda Browne (1869-1947), Full Bloom
Value: $5500
Watercolor on paper, 19 7/8 x 26 1/8 inches. Browne was the first woman artist of the Lyme Art Colony. Born in Newark, New Jersey, Matilda Browne was a child protégé, active in Greenwich, New York City and Old Lyme. Although flower and animal paintings became Browne's specialty, her skill in both genres led her to elevate her subject matter, and her work stands in comparison with some of the best Impressionists of the age. FGM hosted her first-ever museum exhibition earlier this year. Donated by Ron Luich Framing donated by The Cooley Gallery, Old Lyme, CT

6 Enjoy Five Nights in Sunny Sarasota, Florida
Value: $3500
Stay five nights in a three bedroom, three bath mid-century modern home with a pool in Sarasota, FL during high season – February, March or April. The house is located on beautiful St. Armands Circle and is within walking distance to Lido Beach, shopping, and restaurants. The home is part of the Sarasota School of Architecture and has won awards for its design. Date to be mutually agreed upon. No children under 12 or pets. Airfare not included. Expires April 30, 2018. Donated by Andrew & Diane Kaslow
Want to see a selection of Silent Auction items?
Click here…
Related Events