September 30, 2017-January 28, 2018
A Room of Her Own (Ballad of Ruth Coxe)
Per CDC recommendations, masks are required indoors for everyone regardless of vaccination status.
A Room of Her Own (Ballad of Ruth Coxe)
In, A Room of Her Own (Ballad of Ruth Coxe), contemporary photographer Pola Esther presents a portrait of Ruth Anne Brown Coxe of Old Lyme in an exhibition of photographs and installation elements. A complex and unconventional person, Coxe, who died at age 85 in 2015, was an embattled figure who clashed with others on politics, womanhood, and religion. Carrying hand-lettered signs or displaying them in her front yard, Coxe sought attention for her legal battle to retain the 18th-century homestead and farm she occupied with her two sons in Old Lyme following the death of her husband, Constitutional lawyer Samuel H. Coxe III, in 1981. Advocating for a return to America's agricultural roots, she promoted organic farming and opposed government actions that would affect the town's rural character. Her protests, as well as her homemade bread and produce, became fixtures of town life.
Beginning in 2013 Esther, Coxe's neighbor, photographed her in the cluttered environment of her home, drawing visual parallels between the house and the personality of its occupant. In her portraits of the wizened but spry Coxe, Esther discerns her subject's strong beliefs, ideas that drove Coxe to adopt natural foodways, start her own businesses, and travel to remote parts of the world with her family to study traditional agricultural practices. The photographer reveals Ruth's transformation of the once-grand home, formerly occupied by Lyme Art Colony painter Edward Rook, into her own chaotic universe—set against the idyllic backdrop of Old Lyme, a town celebrated for its picturesque qualities since the days of the artist colony based at Florence Griswold's boardinghouse. Following Coxe's death, Esther revisited the home "with Ruth as its soul," posing models wearing her fearlessly-chosen clothes or holding emblems of her beliefs, such as images of the Virgin and Child that reflect her esteem for motherhood. The resulting images offer the artist's perception of her sitter as adventurous, nonconforming, opinionated, and full of life, and reflect on the expression of those traits in the space still charged with her presence even after her death.
Esther's gallery installation will juxtapose her photographs with photo collages of Coxe's memorabilia, protest signs, clothes, and even physical elements from the Coxe house. In recognition of Coxe's disputed legacy, Esther plans to record locals' recollections of her and her complex legacy in the community.
Born in Lodz, Poland, Esther studied and worked in theater before taking up photography as her primary means of artistic expression. Building on her background in theater, Esther infuses her images with drama and narrative tension, juxtaposing them in series to build stories, as in A Room of Her Own (Ballad of Ruth Coxe). Often in bold, sensuous color, Esther's photos consider themes of intimacy, human connection, and the feminine, finding echoes between the body and the natural world. Her appreciation for female energy attracted her to Ruth Coxe when the photographer moved to Old Lyme. A newcomer to the area, Esther found in Coxe a muse who empowered the photographer's own art making.
Based in Old Lyme and New York, Esther has exhibited her work internationally in Poland, France, Bulgaria, and Germany, where her installation Eye.Eat.You appeared in 2015-16 at Platform, a gallery in Berlin. Closer to home, she was artist-in-residence at the Hygienic Art Gallery in New London, Conn., in 2010-11, and has exhibited at the Diane Birdsall Gallery, Bee and Thistle Inn, and Westerly Land Trust. Her photographs have appeared in numerous publications.
Video created by Pola Esther for this exhibition.
More from Pola
Website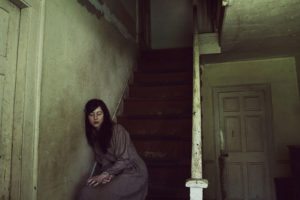 Title image: Pola Esther, Don't Listen (from Sill House Forever Series), 2015-17. Archival digital print dibond mount, 20×30 inches. Courtesy of the artist.