Programs & Events
Calendar
Museum hours: Tues-Sun, 10am-5pm. No advance ticket reservations required.

ONLINE LECTURE: Against Sustainability: Imagination, History, and the Environmental Paradigms We Need Now
November 11, 2020 @ 2:00 pm

-

3:00 pm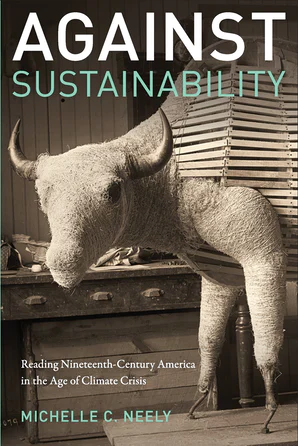 with Michelle C. Neely, Associate Professor of English, Co-Director of American Studies, and affiliated faculty in Environmental Studies at Connecticut College
This event is free but registration is required! Sign up here.
Why have mainstream environmental paradigms such as sustainability failed to prevent our well publicized descent into "the sixth extinction" and a catastrophically warmer world? Neely shares insights from her new book, Against Sustainability, to answer these questions. By exploring a series of creative, literary, and scientific archives, Neely's illuminates the 19th-century American origins of familiar environmental trends such as sustainability, recycling, and preservation, and explains why these models have been compromised beyond instrumentality. Ultimately, she will argue for the value of unusual and even provisional environmentalisms such as joyful frugality, radical pet keeping, and a critical utopianism that might reorient our imaginations and actions toward more just and livable futures.
Signed Copies of her book Against Sustainability: Reading Nineteenth-Century America in the Age of Climate Crisis (Fordham University Press, June 2020) are available through the Shop at the Museum.
The lecture will take place virtually via GoTo Webinar and a link to access the event will be sent when participants register.
Support provided by Art Bridges

Connecticut Humanities with funding from the National Endowment for the Humanities and the federal CARES Act

Media Sponsor: Connecticut Public

Related Events