Programs & Events
Calendar
Museum hours: Tues-Sun, 10am-5pm. No advance ticket reservations required.

September Expressive Wellness
September 10, 2018 @ 5:30 pm

-

7:30 pm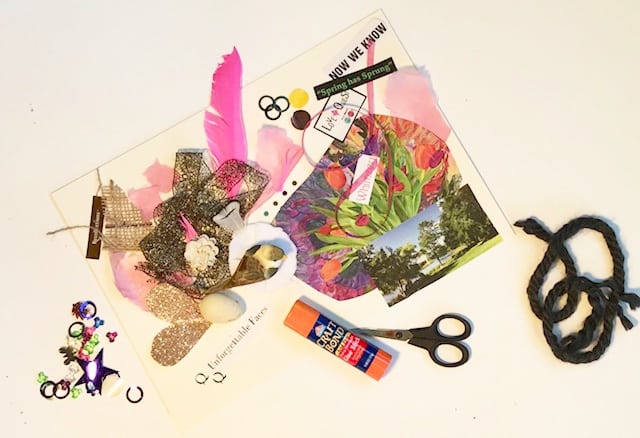 The Expressive Wellness Series
Join us and venture to the place where art meets intuition.  This returning series is for artists and non-artists, who wish to deepen their self-awareness, find stress reduction strategies, or navigate life transitions through the creative art making process. Creating art in an intuitive fashion provides access to the abstract and intangible aspects of self.  It allows an experience of truthful process and a sense of daring and strength where something new and unknown can emerge. Through discussion and reflection, Pamela Lape will guide the group through nine sessions exploring different mediums and themes.  Making art and reflecting on it in a safe space without judgement or expectations, provides participants with new tools for approaching life in a more effective and satisfying manner.  Experience the growth and self-knowledge that can come from accessing our inner selves hidden beneath the daily routine.
Workshops are developed by Pamela Lape LP, LMHC, an expressive arts facilitator, fine artist and practicing psychotherapist with 35 years' experience. Hands-on art projects are facilitated by artist and Museum educator Julie Garvin Riggs.
Open to artists and non-artists alike.
Classes may be taken individually.
Art supplies provided by the Museum.
Pamela Lape LP, LMHC, is an Expressive Arts facilitator, Fine Artist and practicing psychotherapist with 35 years' experience. She has an MS in Clinical Psychology, a BS in Fine Art, and is a graduate of the Westchester Institute for Psychotherapy and Psychoanalysis. and. Although Pamela is a psychotherapist, this is not Art Therapy, rather a journey of self-discovery through the art making process. She resides in Chester, CT.
Session 1
PLEASE NOTE this month's workshop is sold out
To register for other sessions, click here.
Monday, September 10
Collage – Building the Landscape of our Inner Lives
Spontaneous art is the mirror reflection of your inner world. Allow your intuition and authentic voice to come alive and speak to you in ways that words cannot. Through the medium of collage, Pamela will guide you, through discussion and reflection, to intuitively and freely create a symbolic depiction of how your inner self may look as a landscape.  Let's experience the freedom of letting your inner landscape take shape and color in your physical world.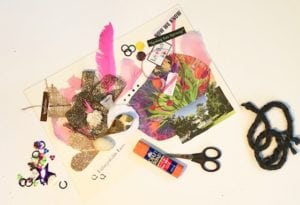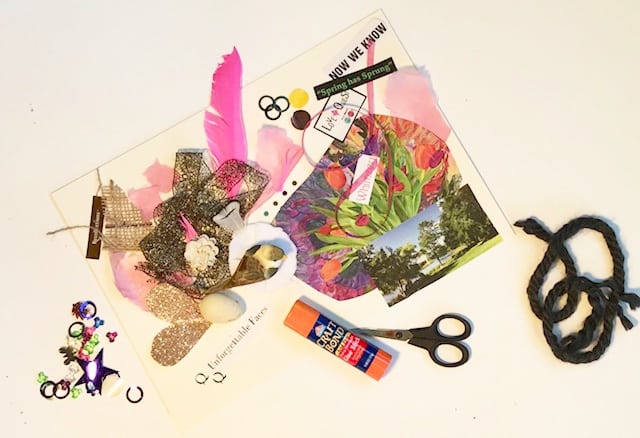 Session 2
Monday, October 15
Pastels – Dreams and Imagination
Have you ever wanted to explore the invisible world of your unconscious inner canvas? Expression of a dream or fantasy can lend insight into your unique, subconscious life.  Using Pastels, we will explore the part of you that dwells beneath your daily social self, allowing the hidden parts of you to come together as a whole.  As shape and color emerges, our discussion and reflection will take you down the path of your dreams and imagination and guide you towards fresh perspectives on your challenges, transitions, and journeys.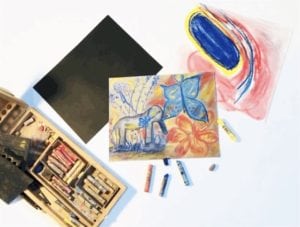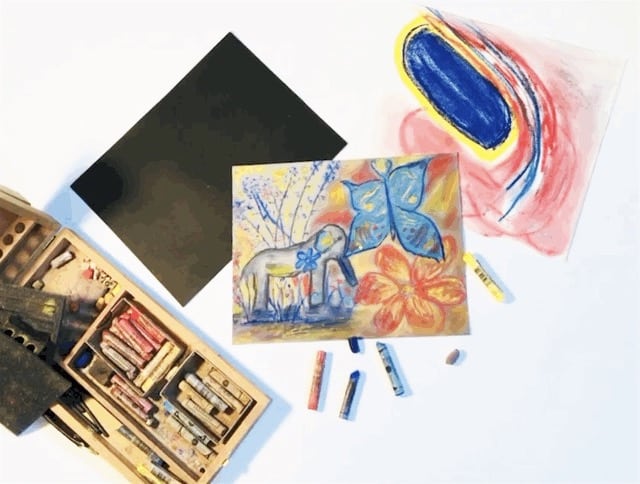 Session 3
Monday, November 5
Mixed Media – an Abandoned Object Story
Using a variety of materials including (but not limited to) wire, paper, fabric and wood, and employing the process of spontaneous creation, we'll examine, express, and give story to an Abandoned Object. (You'll either bring your own object or choose from what we'll have at the class.) Together, we'll create, discuss and reflect on a symbolic story about your chosen object, while at the same time give dimension and depth to your own story of the physical world in which you live. Let whimsy and imagination enrich your creative view of the world and your place in it.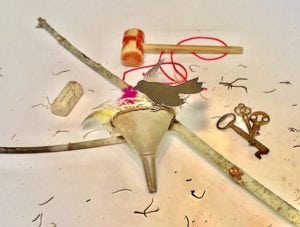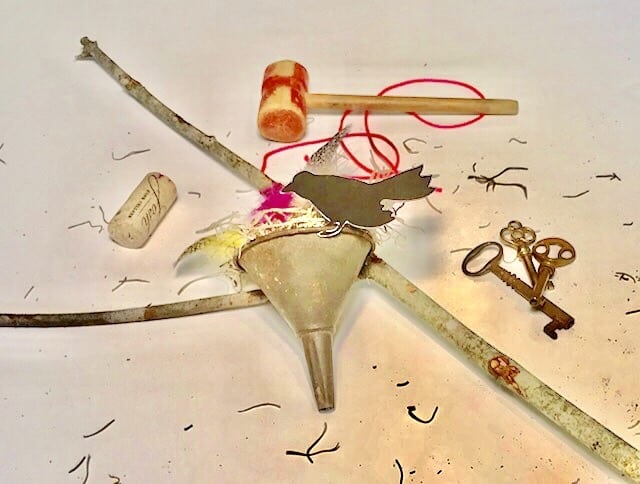 Session 4
Monday, December 3
Printmaking – Impressions, who do they think you are?
Do other people see the real you? You know who you are as you interact with your friends and family every day, but how do you imagine others see you? Using simple printmaking techniques, Pamela will discuss and reflect as you explore and play on the real, the abstract, or the symbolic level.  Spontaneity and intuition will guide you, allowing you to better understand in a visual way, the image of the self you believe others see.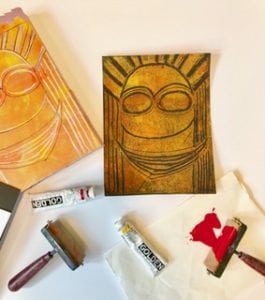 Session 5
Monday, January 7
Mask Making – Your Inner Child Revealed
Inside each person lives an inner child, that we often keep hidden from the wider world.  Working with a plaster mask, we'll create an artistic expression of the subconscious world we often fail to visit.  Through discussion and reflection, we will make room for and give voice to the truth of our inner child and experience healing and understanding in a safe and non-judgmental space.  Your inner child needs a play date!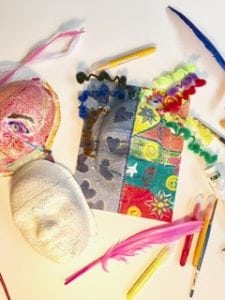 Session 6
Monday, February 4
"My Timeline" – an Altered Book
This class is a wonderful chance for your intuitive self-knowledge to emerge! Using an antique book as a starting point, you'll begin to create a timeline of your life, which holds important keys to greater self-discovery. The exploration of the arc of your existence will reconnect you to what's most important to you, now, today, and in the big picture of your life and allow you to reflect on significant events that have brought change or transition to your life. Through discussion and reflection, Pamela will guide you as you work to interpret, define, redefine and gain perspective on your life journey.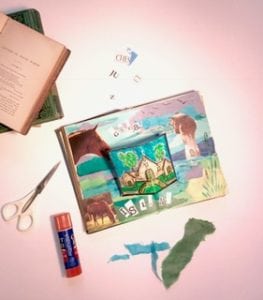 Session 7
Monday, March 4
Clay – The Essence of You
What is that essential element, without which you would cease to be the person you take yourself to be?  Let's find out.  Using clay, you will sculpt an intuitive expression of the one aspect that is uniquely you. You will allow that piece of you to emerge from the clay.  Pamela will guide you with discussion and reflection, and as your intuition takes dimensional form, you will uncover truths of the irreducible and essential you.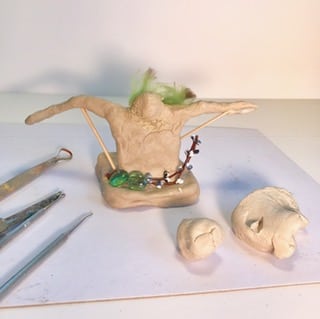 Session 8
Monday, April 8
Assemblage with Black and White Materials
Working only with blacks, whites, and greys, we'll play with the spaces between, and celebrate the fascinating balancing act of, the opposing aspects of your personality.  Through discussion and reflection, we will pay homage to your dualities and to the power and self-awareness that can come from integrating opposites into a new whole.  With this assemblage adventure, we will employ intuitive, spontaneous creation, to examine, freely express, and give three-dimensional shape to a new symbol of the entirety of you.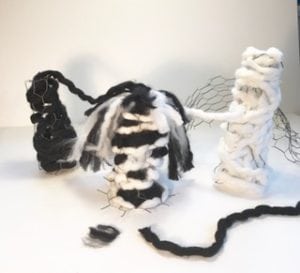 Session 9
Monday, May 6
Mixed Media – Mapping Hand, Head, and Heart
Maps are made to chart the landscape, to visualize the territory, and to guide us on our journeys. "Mapping" is the technique we will use to uncover new answers to your questions – both asked and unasked.  For your project, you will choose either hand, head, or heart.  Together, we will examine the emotional, mental, and spiritual, as you give shape and color to the terrain, exploring the meanings that hand, head, or heart holds for you. Through discussion and reflection and using a variety of artistic mediums and art making tools, we'll map the reflections and impressions to create art that will render your inner core in an expansive and symbolic new way.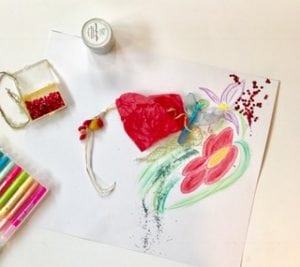 Related Events