Fletcher, the Fun Fact Fetcher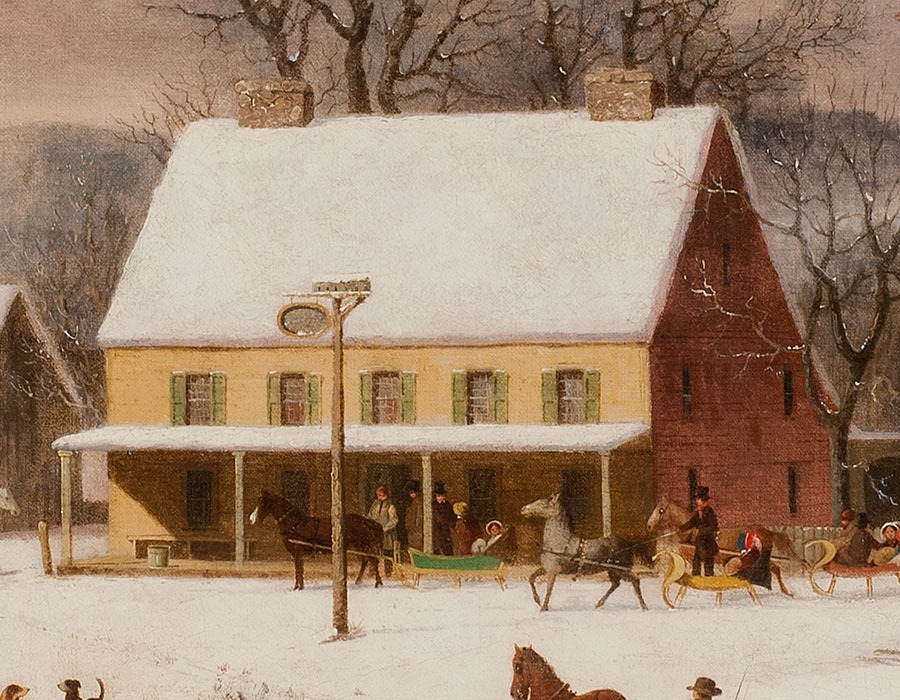 The house in the painting is called a Saltbox. Popular between 1650-1750, saltbox houses have two stories in front and one story in back, giving them an asymmetrical roofline. The name comes from actual saltboxes that had a similar shape and were used to keep salt dry next to the fireplace.
More Saltboxes by Durrie
According to his diary, Durrie had oysters and coffee for supper on January 15th, 1845. Although it seems a bit odd today, at the time New Haven harbor was a major source for oysters, and coffee would have been an imported luxury.
---
In 1860, Connecticut was one of only 33 United States compared to the 50 we have today.
---
During Durrie's lifetime, Connecticut still had two capitals: Hartford and New Haven. Hartford did not become the only capital until 1875.
Although sleighs make most people think "Santa Claus," they were a popular mode of transportation in winter before the invention of the automobile.
One-horse open sleighs would be a cold way to travel at night. To keep warm they would heat up bricks in the fireplace and bring them to the sleigh and cover up with a thick buffalo fur robe.
More Sleighs by Durrie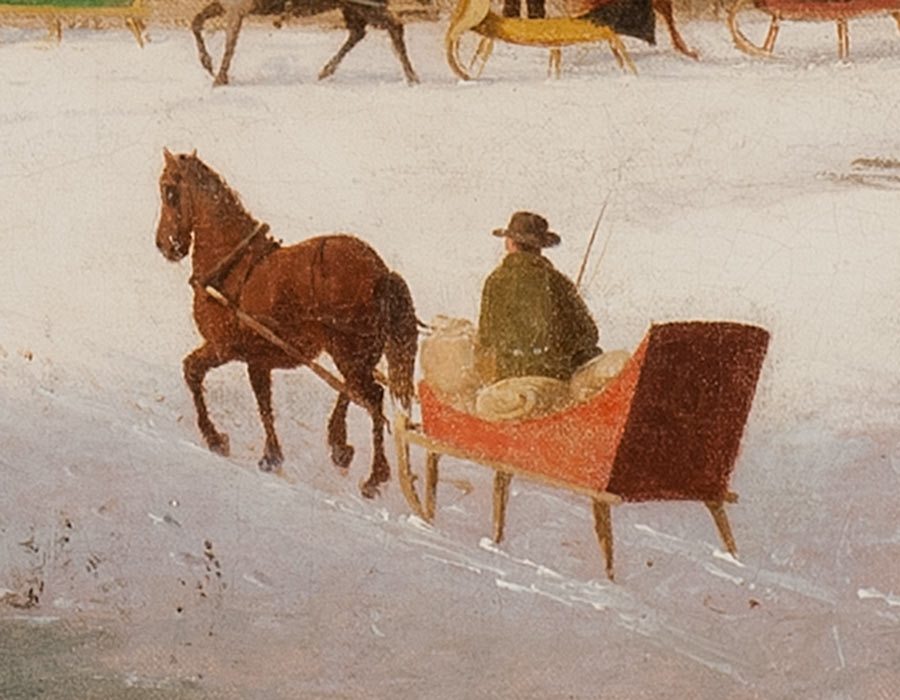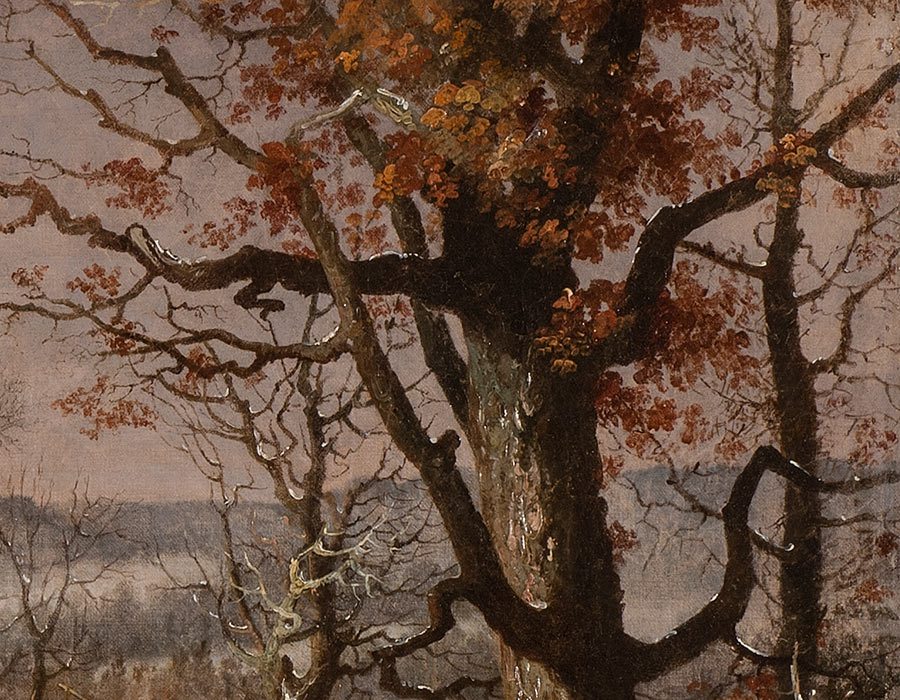 Oak trees are one of only a few trees that keep their dead leaves on their branches into the winter months. The tree on the right side of the painting still has quite a few brown leaves which might suggest that it's an oak tree.
More Trees by Durrie
By the late 1800s, Hartford was the wealthiest city in the United States
---
George D. father was a partner in the firm of Durrie & Peck. They were publishers, booksellers, and stationers (selling paper, pens, and other writing materials). This might have encouraged young George to draw.
---
Out of a family of six children, two, both George and his older brother John, became artists.
---
George D. liked to sing. He had a splendid tenor voice. He sang mostly at church which he attended daily and sometimes three times a day.
George D. was painting portraits professionally by age 19 in Bethany and Hartford, Connecticut. The next year he was making them in Meriden and Naugatuck.
George D. charged between $5 and $40 for one of his portrait paintings. Once he sold a painting of three children for as much as $100.
Detail of: George H Durrie (1820-1863) Mrs. John Forman, 1841. Oil on canvas. Private Collection
More Portraits by Durrie
George D. went to church almost every day, even when out of town. Turns out, meeting new people at their church was a great way for him to sell them on the idea of having their portrait painted.
---
George D. kept a diary that logged every day from January 1, 1845 to January 1, 1846. He loved to record his observations about the weather.
---
George D. was fascinated by the early stages of photography. His brother John started making daguerreotypes in New Haven, and George would be the sitter to give his brother practice at the new technology.
---
George D. would keep his key paintings in his studio for reference and make copies of them with slight variations to order. This is why there are other paintings that look a lot like "Seven Miles to Farmington."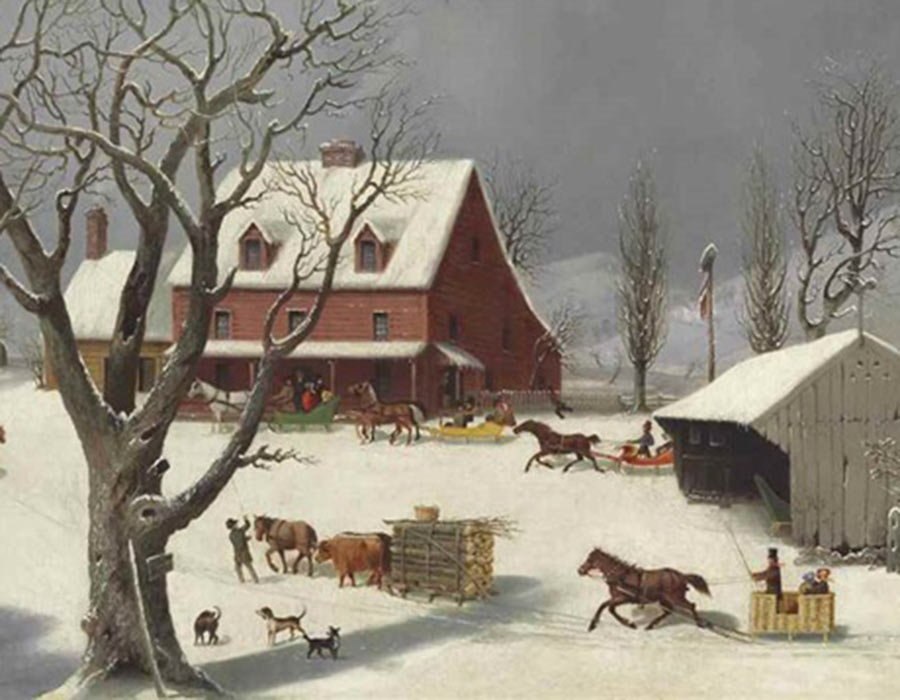 George D. painted portraits until 1845 when he switched almost exclusively to landscape painting, many of them scenes of winter.
George D. was informally nicknamed "The Snow Man" because of his love and talent for painting winter landscapes.
Detail of: George Henry Durrie, Sleighs Arriving at an Inn, 1851. Oil on canvas, 19 x 25 in. Private Collection. (Photo via Christie's Auction House)
Durrie's Portfolio