Celebrating Art, History, and Nature
July 29 & 30
Celebrate Old Lyme's Midsummer Festival
The town-wide celebration of art, music, food and family fun is back! You'll find new twists along with long-time favorites to make this a great Midsummer Festival.
Join us Friday night for the free Kickoff Concert at 7pm, and Saturday 9am-3pm for a full day of fun on Museum Campus. Cultural and social service organizations partner with local artists and businesses to celebrate the arts in Old Lyme with a mix of music, art exhibitions, and food.
You won't want to miss the big return of this celebration of all things summer.
Learn More...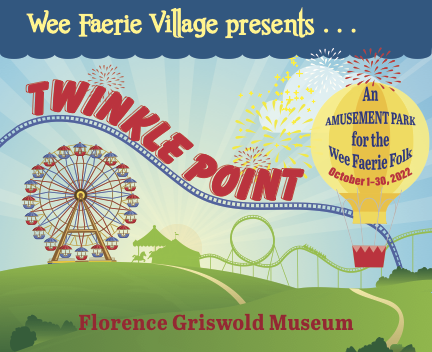 October 1-30
Wee Faerie Village presents...Twinkle Point!
Be ready to shriek, whoop, and giggle as you make your way around Twinkle Point, an amusement park tailored for fay folk. Artists and faerie aficionados are already hard at work on their faerie-sized roller coasters, carousels, arcades, and shops – everything you might find at any amusement park – only tiny.
Click below to read up on FAQs, admission policies, and take a faerie's eye view tour of Museum campus!
Explore more...
Friends and Neighbors
Explore Old Lyme
You won't find a more quaint and inviting arts district than Lyme Street in Old Lyme. Spend your day engaged in the American arts as you walk from the museum to our art galleries, wander through a sculpture garden of imagination, and stop by a coffeehouse where someone just might be strumming their guitar. A renowned Jazz Club joins other inspiring music venues and performance series across town, while special events celebrating the arts happen throughout the year.
Find Out More