‼️ PLEASE NOTE ‼️ 🎫 MUSEUM admission 🎫 is available with 24-hour advance online ticketing only. ‼️ The Museum will be closed Sunday, April 4. ‼️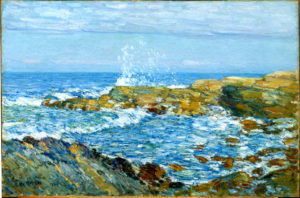 Expanding Horizons: Celebrating 20 Years of the Hartford Steam Boiler Collection, on view November 7, 2020 though May 23, 2021, marks a milestone in the Museum's history. With the company's generous gift of 190 works of art, the scope of the collection instantly broadened, both geographically and chronologically, to include artists working in every corner of Connecticut from the 18th– to the mid-20th century. To celebrate this anniversary, the Museum will present highlights from the collection with an emphasis on new research to showcase the innovative ways in which scholarship about American art has progressed over the past two decades. Twenty leading scholars of American art will be engaged to lend their expertise and innovative perspectives by writing labels about individual works. Along with this exhibition, the Museum marks a second local artistic milestone. Image: Childe Hassam, The Dry Northeaster, Isles of Shoals, 1906. Oil on canvas, 20 x 30 ¼ in. Florence Griswold Museum, Gift of The Hartford Steam Boiler Inspection and Insurance Company. Read more…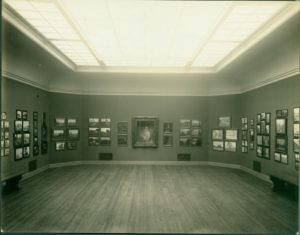 Centennial of the Lyme Art Association Gallery, on view November 7, 2020 though May 23, 2021, honors the 100th anniversary of the building erected by Old Lyme artists in 1921 as a dedicated space to exhibit their works. Using permanent collection objects, selected loans, and archival records and photographs, this one-gallery show will partially recreate LAA's inaugural display by presenting pieces exhibited there, as well as include new research about the relationship between the residents of the historic boardinghouse and the Lyme Art Association Gallery. Image: Lyme Art Association Gallery interior, 1921. Lyme Historical Society Archives at the Florence Griswold Museum. Read more…
For more about our neighbor, the Lyme Art Association, please go to their website…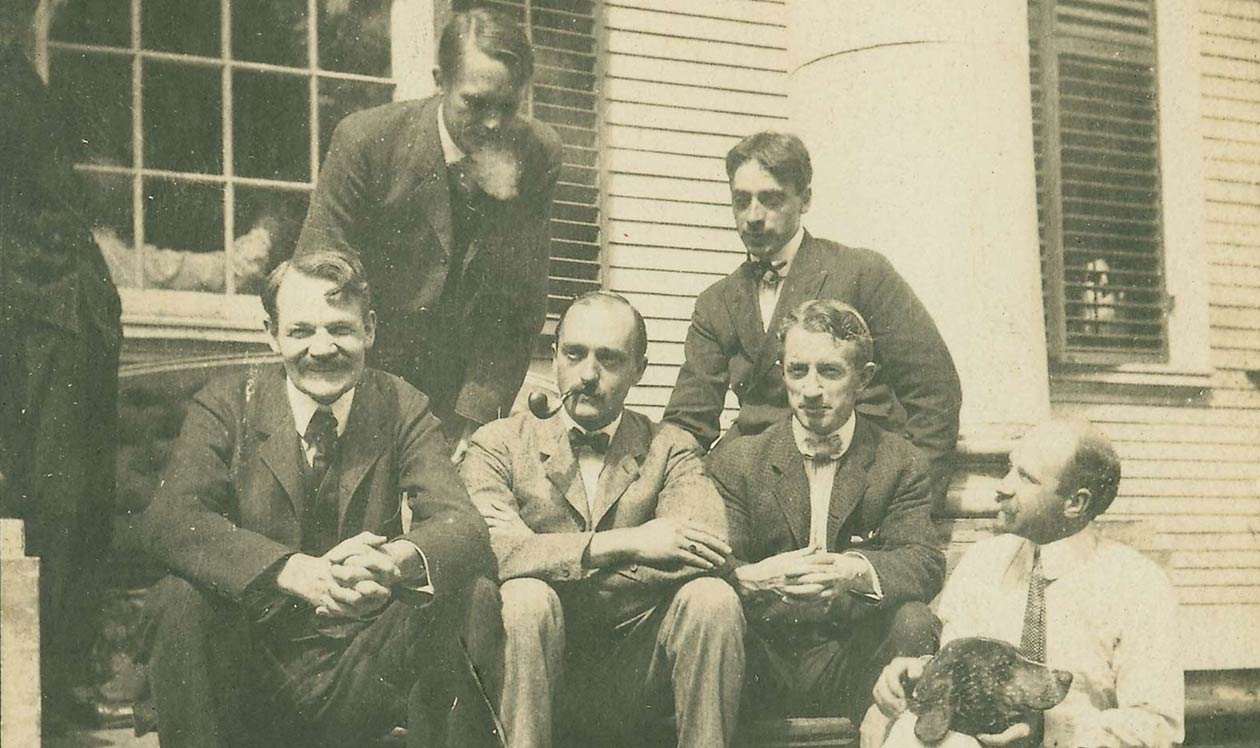 Ongoing
An American Place: The Art Colony at Old Lyme
During the first two decades of the 20th century, the village of Old Lyme, Connecticut was the setting for one of the largest and most significant art colonies in America.
Find Out More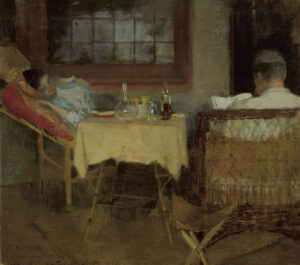 June 5-September 19, 2021
Social & Solitary: Reflections on Art, Isolation, and Renewal
Willard Metcalf, Ethelinda and James, 1890. Oil on canvas, 15 x 17 in. Florence Griswold Museum, Purchase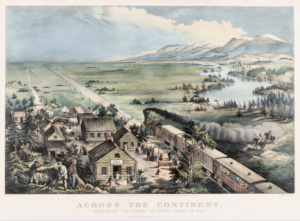 October 2, 2021-January 24, 2022
Revisiting America: The Prints of Currier & Ives  
Currier & Ives was a powerhouse of nineteenth-century publishing and had an immeasurable influence on American visual culture. Founded in New York in 1834 by Nathaniel Currier, the company expanded to include a new partner, James Merritt Ives, after 1857. Currier & Ives produced millions of affordably priced copies of over seven thousand original lithographs, living up to its self-appointed title as "the Grand Central Depot for Cheap and Popular Prints." Along with their popular appeal, these images offer a new opportunity to uncover the complexities and contradictions of our history and help shape our understanding of America's past.
Frances Palmer, American (born England), 1812–1876, Across the Continent "Westward the Course of Empire Takes Its Way", 1868. lithograph. Joslyn Art Museum, Gift of Conagra Brands.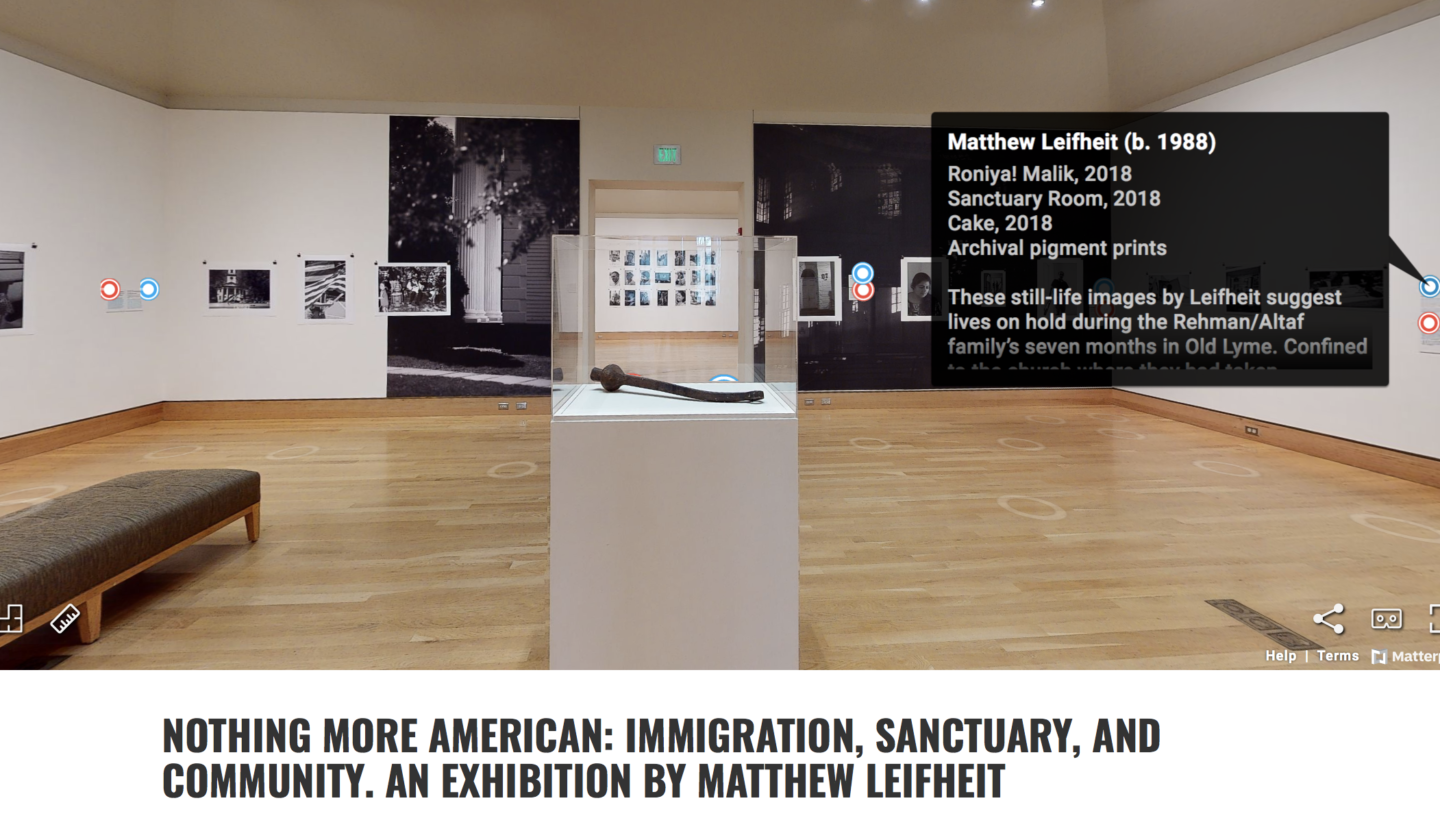 Text in English and Spanish
Virtual tour of the special exhibition "Nothing More American"
Take tour...
Virtual tour Jennifer Angus Griswold House Installation
Silver Wings and Golden Scales
View Installation