Holiday Magic
November 24—December 31, 2023
Please note: The Krieble Gallery is currently closed while we install our next exhibition, opening September 30. The historic house, grounds, and special exhibitions in the Marshfield House are open and Admission is reduced to $6. Café Flo will be closed Sept 23–29, reopening Sept 30.
🥫🥫 If you visit between November 24 and December 31, please consider bringing a non-perishable donation for the Shoreline Soup Kitchens and Pantries. 🥫🥫
This year's celebration features new twists on the traditional décor. Imagine a fictional mantel-decorating contest in the Griswold boardinghouse between the historic Lyme Art Colony artists. Inspired by their paintings, they rummage through their studios as well as old trunks in Miss Florence's attic for festive objets d'art and holiday decorations. Miss Florence announces the winner and awards ribbons on her birthday—Christmas Day! See sidebar ➡️ for details.
In addition to the traditional decorations, three 🎄🎄🎄Fantasy Trees add bespoke sparkle in the historic house.
In the Krieble Gallery, 250 painted 🎨 palettes adorn four stunning 🌲🌲🌲🌲 Artist Trees. Scroll down to find out more about the painted palettes.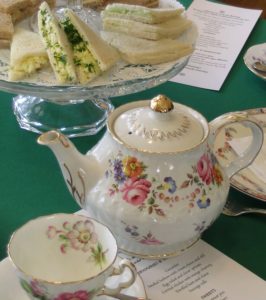 Miss Florence's Teas 2023
This holiday favorite sold out so quickly last year that we have added dates and additional seatings for 2023.
November 28—December 30, Tuesdays—Saturdays, tea will be served twice each day. Choose a seating at 11am or at 2pm and enjoy your tea for up to two hours. No teas on Sundays or Mondays.
Reservations open on Wednesday, November 1 and are made by calling 860.434.5542 x111.
MEMBERS' PERK! Members can make their reservations beginning Friday, October 13 by calling 860.434.5542 x111. Not yet a Member? Consider joining today!
Our hand-blended, superior Ceylon and China black teas are enhanced with a touch of vanilla and other delicate spices over a two-day process by Sundial Gardens for a unique and elegant tea to be enjoyed with tea sandwiches and seasonal sweets catered by Gourmet Galley, all the while overlooking the wintry splendor of the Lieutenant River. Can accommodate gluten free and vegetarian. Regrettably, we cannot accommodate dairy-free requests.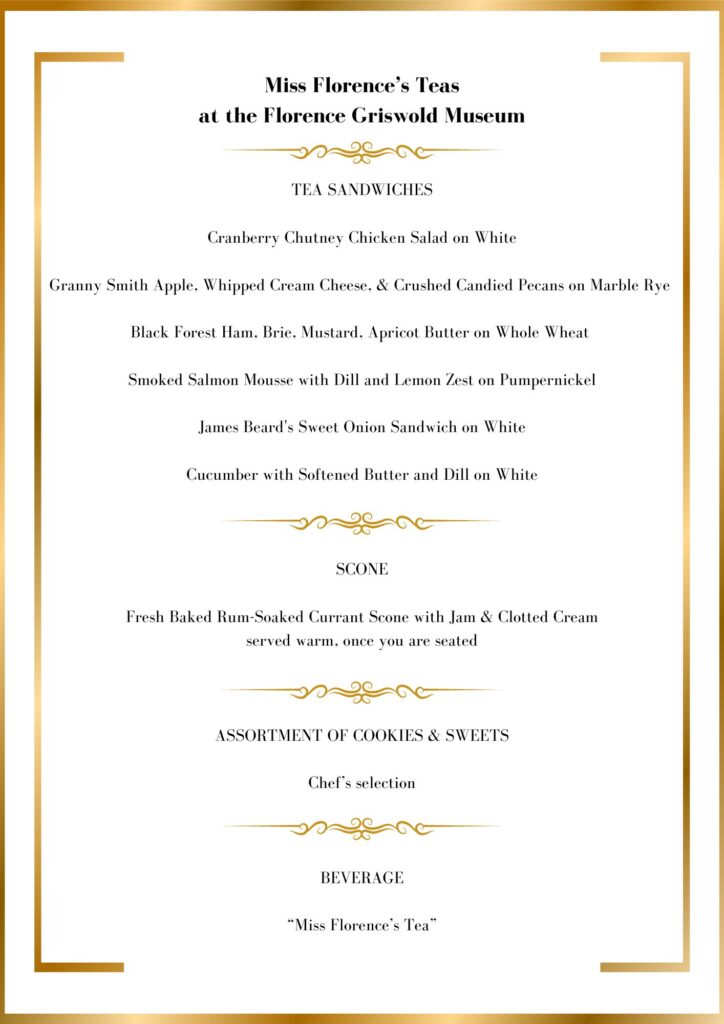 🛍 Shopping in the Museum's store is a great for you, the Museum, and local artisans. 🎁
You'll find the perfect gift (or a treat or two for yourself) from a fresh supply of unique items by the best vendors and local artists.
Enjoy shopping in our boutique-sized Shop, or order over the phone at 860.434.5542 x111.
Questions about gift items? Contact the Front Desk.
You May Also Be Interested In