The 40th Annual Benefit Auction & Dinner Dance
Museum hours: Tues-Sun, 10am-5pm; Café Flo hours: Tues-Sun, 11:30am-2:30pm.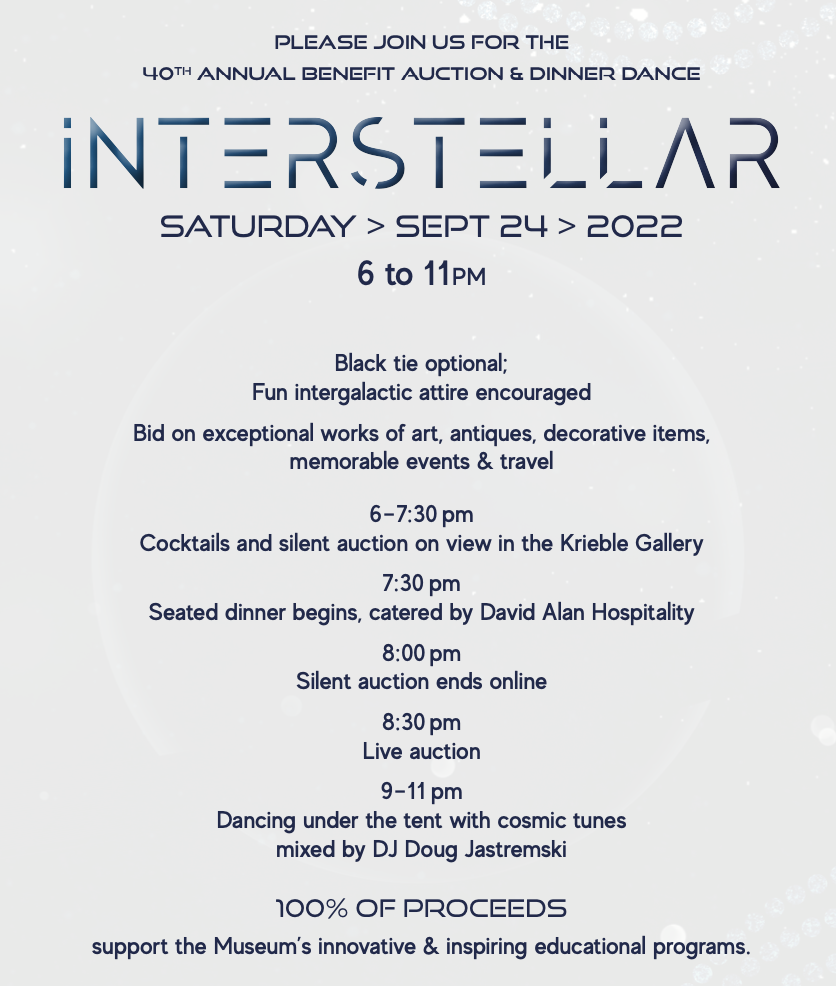 BUCKLE UP for an out-of-this-world night!
As the Museum envisions BOUNDLESS NEW POSSIBILITIES AHEAD, we are setting our sights on the outer limits of space with DINING AND DANCING UNDER THE STARS, a space-themed specialty cocktail, and lively bidding on 150+ sensational auction items.
CREATIVE COSMIC ATTIRE fit for spinning along the Milky Way (or, of course, black tie) is welcomed and encouraged.
Questions? DeeDee@FloGris.org
To download your invitation CLICK HERE.
We do not hold reservations without payment.
Capacity is limited, so please secure your reservation early!
PURCHASE TICKETS NOW...
VIRTUAL AUCTION
All silent auction bids will be placed through a virtual auction website.
Check back here for link to preview auction items September 1 through 10.
Online bidding begins September 11 at 8 am and closes September 24 at 8 pm.
Please be sure to bring your phone to the gala so that you can bid that night.
You do not have to be present to bid and win! Anyone on the planet can join in the fun—and bid on our curated assortment of artwork, décor, experiences, and travel!