FREE concert Friday, July 28!
7 to 9pm
Come between 5 and 7pm to view our current exhibit: Flora/Fauna: The Naturalist Impulse in American Art AND enjoy savings of up to 75% at the tremendous sale in The Shop!
This year, Nick Anderson and Shady Creek Band bring traditional bluegrass music with a healthy serving of that "high lonesome sound" to the banks of the Lieutenant River. With high-energy picking and soulful duet, trio, and quartet harmonies, the band will have you dancing in your seat.
The free concert is always a favorite and makes for a picnic-perfect summer evening. Sponsored by All Pro Automotive and the Graybill Family.
Saturday, July 29
Here at the Museum there is a NEW EVENT- a Bohemian Street Fair!
In the spirit of the bohemian artists who once lived in the house, festival favorite, Market En Plein Air is becoming a Bohemian Street Fair, evoking the colorful Old Lyme Street fairs of the early 20th century. This new branding on an old idea will offer our guests a wider and more diverse selection of products from farmers, specialty purveyors, artisans, and more.
Returning to our Bohemian roots! Sure to be as fun as the town street fairs that the artists enjoyed, like this one from the 1930s. Left to right are some familiar faces: Beatrice Hoffman, Beatrice Banning, Mary Chadwick, Harry Hoffman, and Waldo Banning.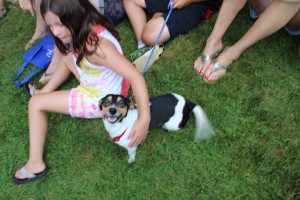 9am- 11:30am: Parading Paws Dog Show!
Does your dog have the best smile, longest tail, biggest paws? Registration from 9-10am. Judging begins at 10:30am. Special categories include Best Trick and Best Costume. Sponsored by 
Vista Life Innovations.
10am – 3pm: Hands-On, Minds-On Education Area

Over a dozen art, history, and nature museums gather together for hand-on fun. Enjoy crafts, science experiments and more while learning about all the terrific cultural resources the area has to offer.
11:30am & 1:30pm:
Folk Music for Young Folk with Dave Fry
Popular with all ages, Dave's concerts feature both traditional and contemporary folk music, spliced together with guitar, mandolin, banjo, wry and plenty of participation on everyone's part.