Programs & Events
Calendar
Museum hours: Tues-Sun, 10am-5pm.

Home Improvement 2023
May 19 @ 3:00 pm

-

4:30 pm

|

Recurring Event

(See all)

An event every week that begins at 3:00 pm on Friday, repeating until May 19, 2023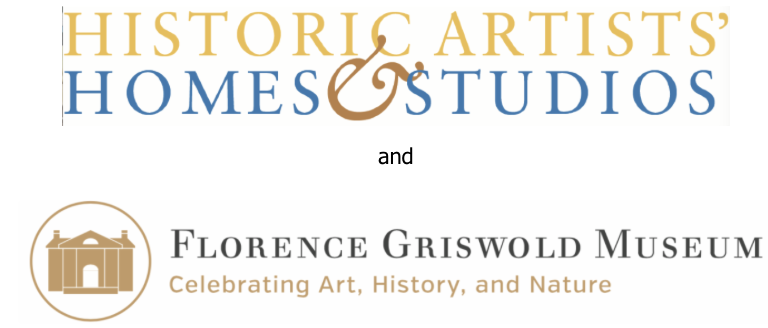 Innovation, Inclusion, and Inspiration
Join us for three curated presentations that pair speakers offering new ways to engage diverse audiences with engaging artistic stories.
Fridays, May 5, 12, and 19 at 3pm
These 90-minute presentations conclude with questions and group dialogue. Offered virtually at no charge.
Can't participate those dates? Sessions will be recorded and available for a limited time after the live event.
Facilitated by Valerie A. Balint, Director, Historic Artists' Homes and Studios and
Amy Kurtz Lansing, Curator, Florence Griswold Museum
Friday, May 5, 3pm
Object Lessons
While some HAHS sites are flush with founding collections, others foreground place. Learn how these featured sites sought ways to augment their collections and how have they used them to amplify stories or present less-familiar aspects of their artist by re-centering objects.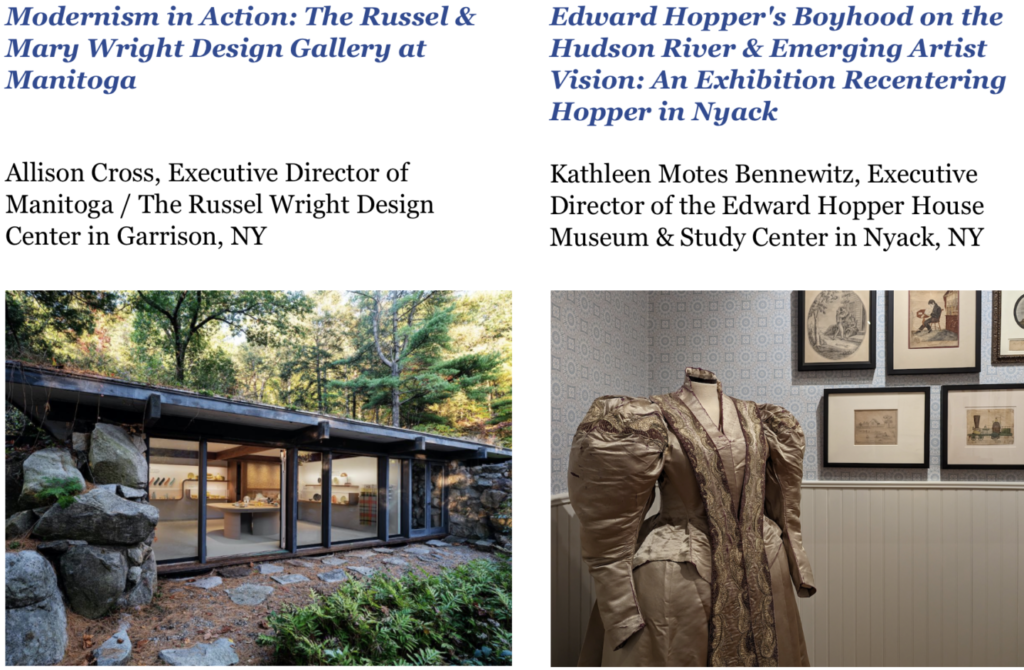 The award-winning
Russel & Mary Wright Design Gallery at Manitoga
, a modernist National Historic Landmark house and landscape, opened in 2021. The exhibition tells the story of how the Wrights shaped modern American lifestyle from early experiments in spun aluminum in the 1930s to Japanese-inspired patterns and textures decades later. At Manitoga, former domestic spaces were transformed into a state-of-the art exhibition gallery to highlight myriad collections. With more than 200 objects on display, this is the only permanent, in-depth public exhibition anywhere of these life-style visionaries' product designs. These new exhibit areas are physically connected to the interpretive rooms of the historic house with views towards exterior features the couple also designed. 
Learn more about Manitoga / The Russel Wright Design Center…
The Edward Hopper House Museum recently presented the exhibition Edward Hopper's Boyhood on the Hudson River & Emerging Artistic Vision concurrent with the blockbuster show Edward Hopper's New York at the Whitney Museum of American Art. The site's exhibition highlighted the early artistic vision of Edward Hopper, and how it coalesced during his adolescence and young adulthood in Nyack, before he moved into New York City in 1908 to pursue his career. On view in the galleries—the former living spaces of his Victorian era birthplace and childhood home—the artist's drawings, school notebooks, art supplies, and boat models were displayed alongside artworks by family members. Together, these objects provided new insights into Hopper's early years, the influence of his proximity to the town's thriving waterfront and commercial districts, as well as his family's support of his developing artistic talent and ambitions.  Learn more about the Edward Hopper House Museum & Study Center…
Friday, May 12, 3pm
Accessible Tours
An artist's home and studio can provide visitors with an immersive experience of a creative locus. Discover how sites are extending that ability to access both art and place to a range of visitors through sensory-based programming devoted to those with sight loss or dementia.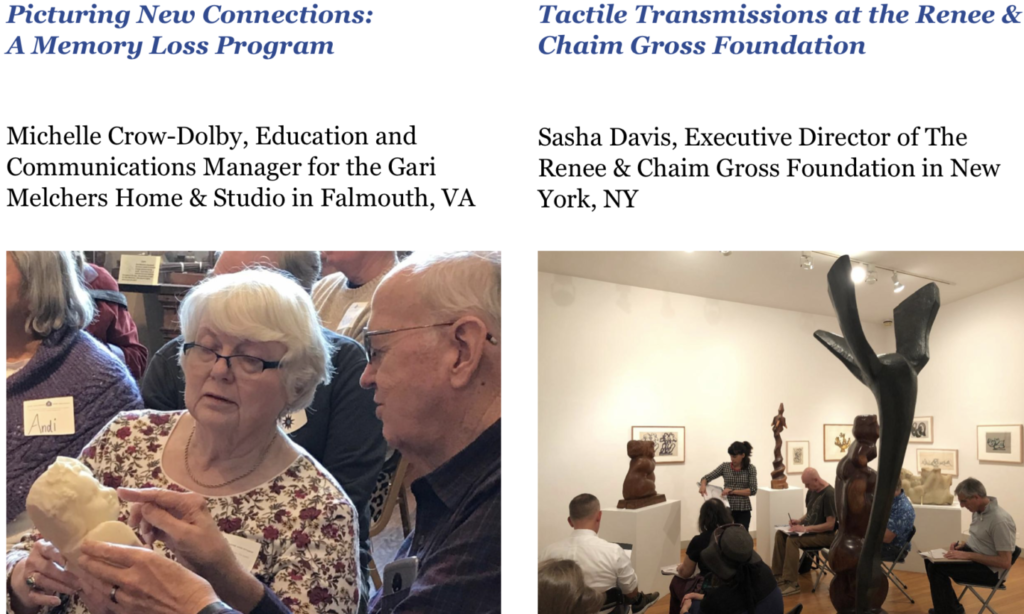 Inspired by the groundbreaking Meet Me at MoMA program and fueled by her desire to offer museum programming for underserved audiences, Crow-Dolby created Picturing New Connections in 2019. This small, welcoming museum program for people with memory loss, their families, or care partners is one of only a handful offered in Virginia. These interactive tours include guided discussion in the gallery space, followed by snacks, and a relaxed hands-on art experience. Emphasis is placed on engaging participants through music, touch, taste, and smell. The museum partners with the Alzheimer's Association Greater Richmond Chapter for staff training and on-site participant support.   Learn more about the Gari Melchers Home & Studio…
Tactile Transmissions, a free 90-minute program—available both in person and virtually—is geared toward visitors who are blind or partially sighted. The Foundation, working closely with consulting educators, first developed this signature program in 2018 in conjunction with the temporary exhibition Teaching Through Touch: Works by Chaim Gross. The show centered around Chaim Gross's insistence on the importance of touch in his working methods and final sculpture. Relaunched in 2022, this updated program features verbal description, touch, and creation. Educators lead participants in drawing with a variety of techniques and materials, and those joining the in-person sessions engage closely with the home and studio of the Grosses. This unique environment allows for supervised handling of sculpture, tools, and works in progress from Chaim's studio.  Learn more about The Renee & Chaim Gross Foundation…
Friday, May 19, 3pm
Spreading the Word

This week's program features collaborative projects that extend the artistic legacy of HAHS sites beyond their walls. Speakers highlight artist residencies, publications, and traveling exhibitions as means of both engaging with and spreading awareness to an audience that may or may not have visited these sites in person.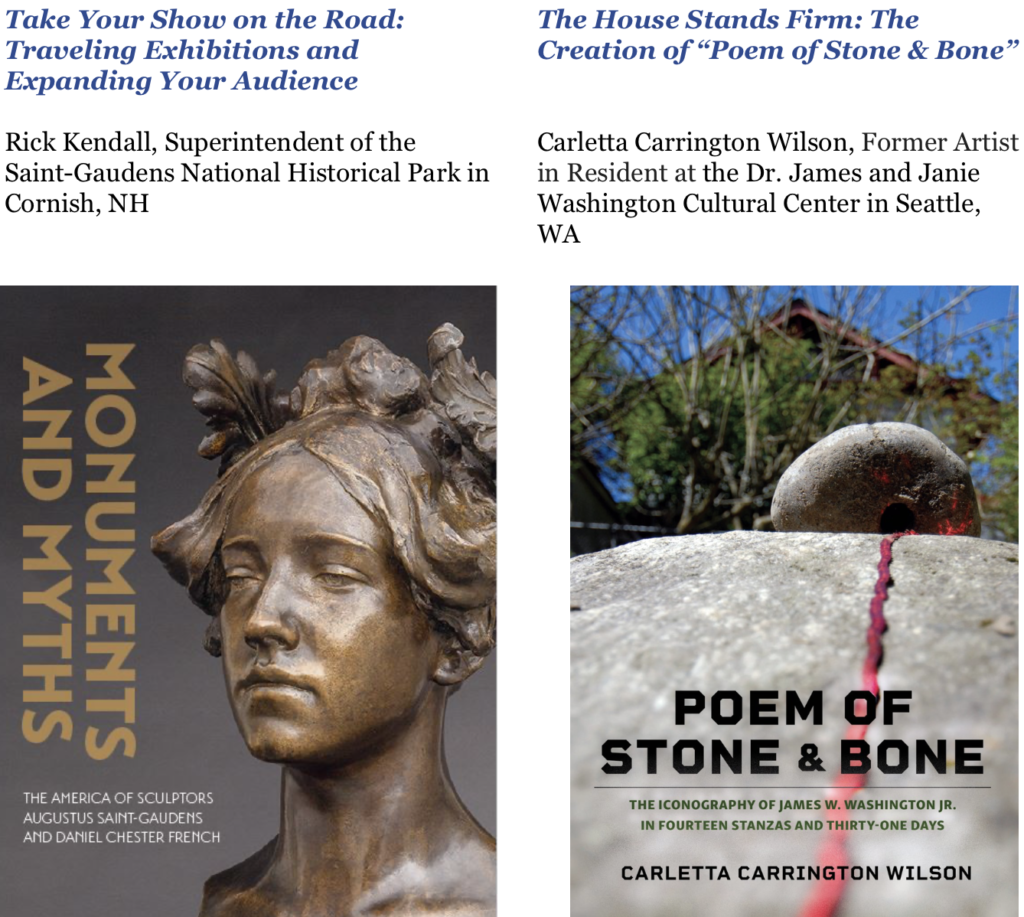 Traveling exhibitions have proven to be a successful way to introduce the creative output of historic artists as well as their remarkable homes and studios to new audiences. To this end, Chesterwood, the home and studio of sculptor Daniel Chester French, and the Saint-Gaudens National Historical Park, the creative estate of sculptor Augustus Saint-Gaudens, have partnered with the American Federation of Arts to plan the first joint exhibition and accompanying catalogue, of the artwork of these two kindred sculptors. Despite the initial challenges of large-scale exhibition planning, including travel logistics, Kendall explains how such a "show on the road" was key to successfully expanding awareness about the two sites as well as their brands to a wider constituency. Learn more about the Saint-Gaudens National Historical Park…
Join literary and visual artist Wilson as she recounts her time as the artist in residence at the home and studio of eminent African American sculptor and painter James Washington. Her inspiration came from Mr. Washington's images, his creative process, and rich library which she acknowledges formed and undergirded his visionary work. From time spent in the studio, on the grounds, or in the house she witnessed layers of rich and resonant links to the past. Her resulting creation and March 2023 publication, Poem of Stone & Bone, honored the legacy of James and Janie Washington, Memorial Day, and the 150th anniversary of the start of the Civil War. The work features four installations that revived key aspects of the sculptor's artistic lineage—melding geography, spirituality, forces of nature, and intellect into a journey across a landscape of time.  Learn more about the Dr. James and Janie Washington Cultural Center…
About our Partner
Historic Artists' Homes and Studios (HAHS), a program of the National Trust for Historic Preservation, is a coalition of 61 museums that were the homes and working studios of American artists. The program aims to preserve the nation's legacy of creativity in the visual arts and to inspire meaningful personal experiences at authentic creative places. The Florence Griswold Museum has been a member of this national network since its formation in 1999. Find out more about HAHS…
Related Events