Collection
In Situ: The Painted Panels
Museum hours: Tues-Sun, 10am-5pm.
Henry R. Kenyon (1861 – 1926)
Ipswich in Winter
This winter scene is unusual in the collection of painted panels in the Griswold dining room. The painterly brushstrokes, the play of lights and darks, and the "wetness" of this Ipswich scene point to an artist working en plein air despite the weather.
Henry Kenyon normally did paint enplein air to communicate the physical sensations and serenity he experienced in a specific place on a particular day. That the scene is Ipswich, Massachusetts, is not surprising, because it was Kenyon's home. After gaining attention in the 1880s for paintings of Pont Aven, France, where he worked with Paul Gauguin and other French Impressionists while he was still an art student, and after visiting Holland and Italy, Kenyon came home to settle in his native New England.
He chose Ipswich as the place and the surrounding countryside as the subject matter for his American Impressionist art. This view of the village of Ipswich through a screening of winter trees is daring and visually complicated. In the distance, the village buildings painted in drab yellows, blues and reds, are capped with snow-covered roofs. The reflection of the gnarled branches in the river is marred by the chunks of ice and snow that float atop the water.
A Parisian education and an American life
A Rejection of European Traditions
Kenyon's wintry scene illustrates ways in which he rejected the centuries-old European art traditions he had been taught both in America and at the Académie Julian in Paris. His brushstrokes are obvious and move quickly across the panel to express the immediacy of his observations. Blurry smears of paint capture the slow moving water and flecks of white paint suggest the blowing snow. Traditional methods to depict space are ignored and replaced with an energetic arrangement of forms and colors, using brushwork that a traditionalist would term "sloppy" – these are hallmarks of Impressionism. The rustic subject matter, so iconic to New England, is representative of American rather than French Impressionism.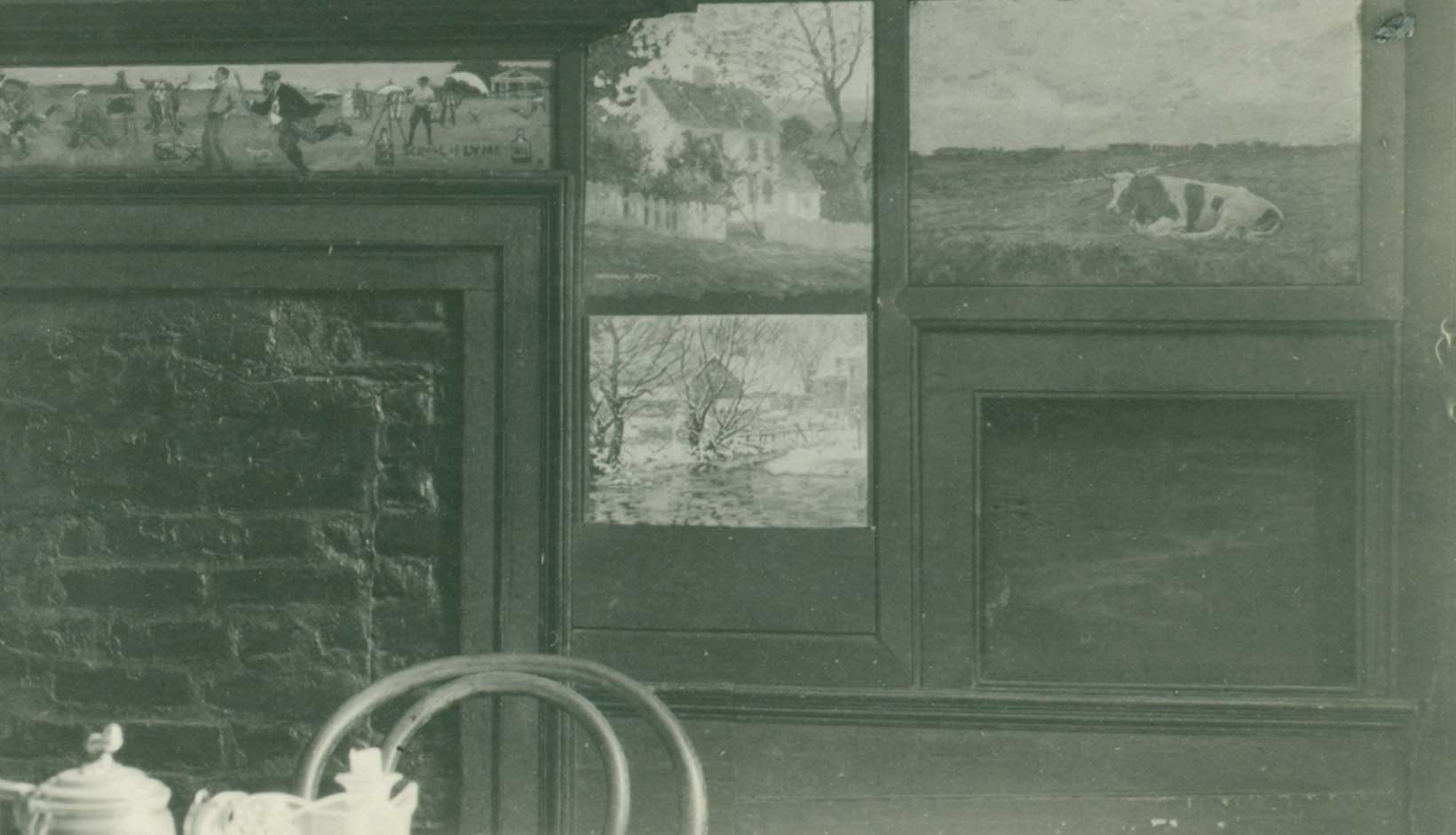 The reverse of this panel is marked "Ipswich" and "February 1908", and while Kenyon was known to be in Old Lyme in 1908, presumably it was in the summer, for artists seldom were at the Griswold House in the winter.
Thus the date is puzzling. A further complication is that a photograph of the west wall of the dining room, published in the magazine Country Life in America in 1914, shows a blank where the Kenyon panel is now. Did Kenyon take a panel home to Ipswich to paint in 1908 and only send it back years later? Was he in Old Lyme again after 1914? Might his panel replicate a painting of his completed in February of 1908? No matter when it was done, the panel well represents the artistry that gained Kenyon a reputation as a notable landscape painter.