Collections
In Situ: The Painted Panel
Museum hours: Tues-Sun, 10am-5pm. Café Flo hours: Tues-Sun, 11:30am-2:30pm.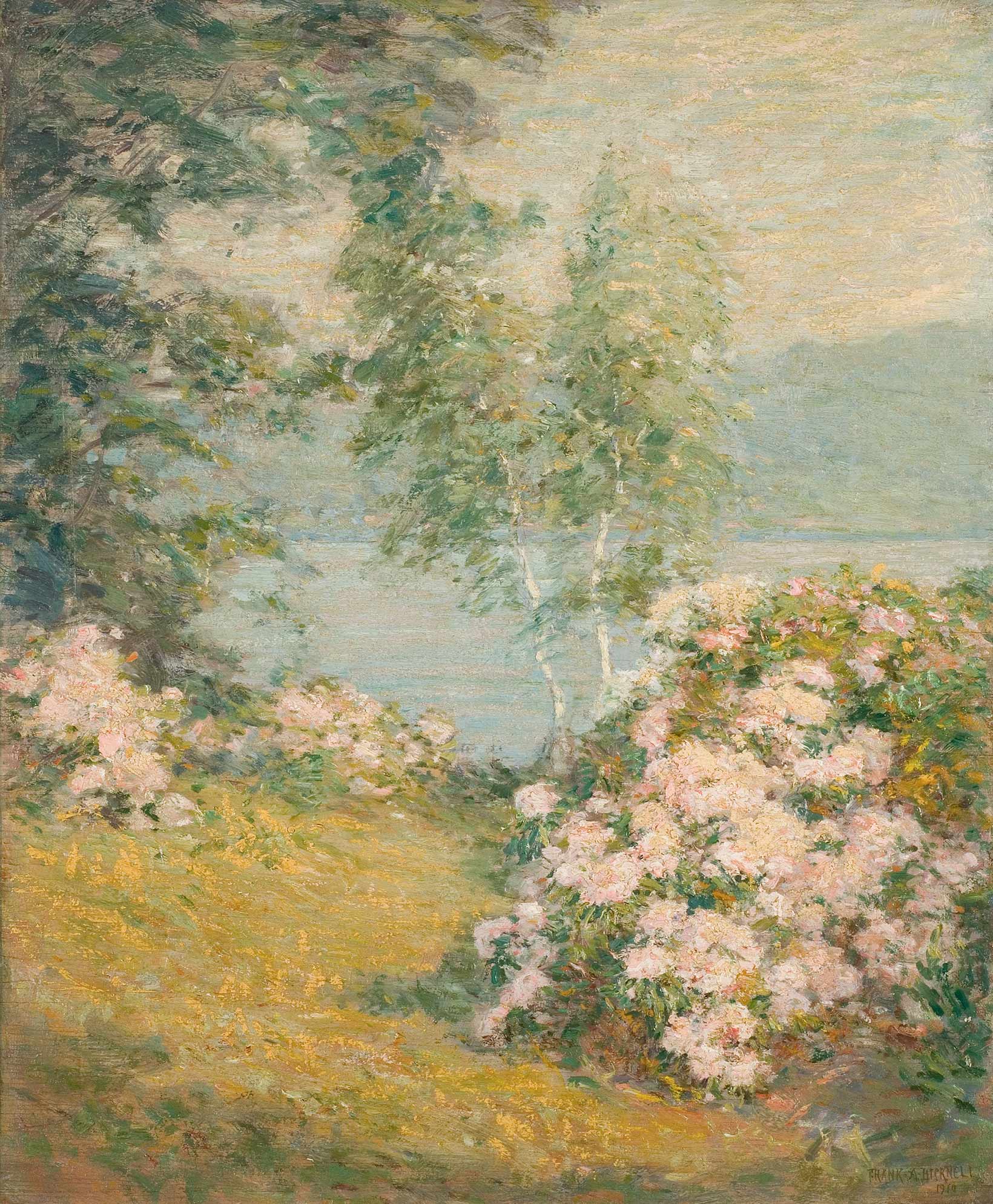 Frank Bicknell (1866 – 1943)
Laurel and Birches Beside a Lake
For his contribution to the décor of Miss Florence's dining room, Frank Bicknell chose a subject that was dear to the Old Lyme colonists – the mountain laurel that blooms exuberantly at the edge of water and woods in early June. Many of the artists painted laurel scenes, which seem made to order for an impressionistic treatment of the kind Bicknell offers.
Here a laurel bush becomes an off-center focal point on the right, balanced by two small bushes and greenery on the left. A yellow sunlit area in the foreground anchors the composition, complements the blues in water and sky, and with the water forms a kind of circle around the laurels. Without the two birch trees at the center, one's eye might be drawn to the distant shore. But the trees screen the background and help the painting retain its close viewpoint, while the foliage of the trees connects them visually with the tree branches at the left. An overall blurriness, soft colors, and the ambient light that suffuses the scene give it a sense of the ephemeral, and yet this painting also has a strong sense of place.
American Impressionists admired the asymmetric compositions and traditions of Japanese woodblock prints, but Bicknell visited Japan in 1895 and saw that country's art at its source. A sophisticated man, he was equally at home presiding over a salon in his fashionable apartment in the Madison Square Garden Tower in New York City or painting laurel outdoors at Rogers Lake in Old Lyme, where this painting was probably done. His aim, he said, was to paint more realistically than most other artists.
After initial training from his father's cousin, Albion Bicknell, a historical portraitist, Bicknell had studied at the Académie Julian in Paris. At age 26 he was the talk of that city when his first submission to the Salon was hung in a prominent spot. Many other exhibitions followed, in Paris, Boston, New York, and elsewhere. In the 1890s Bicknell traveled throughout Europe, North Africa, Greece, the Nile Valley, and Asia. In the early 1900s, Old Lyme exerted its special pull, and after a few years he moved down the street from the Griswold House to a home willed to him by fellow artist Lewis Cohen, which he filled with gorgeous objects and surrounded with lush gardens.