Collections
In Situ: The Painted Panels
Museum hours: Tues-Sun, 10am-5pm.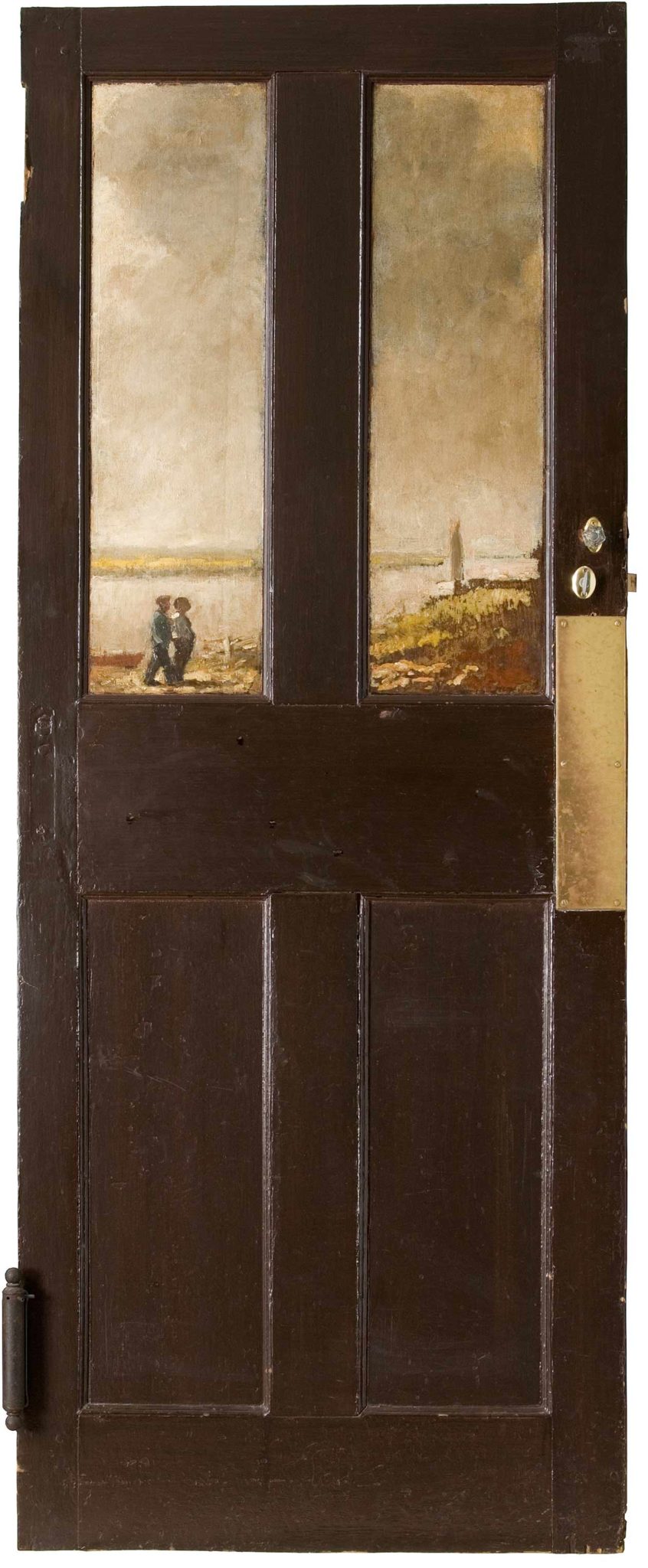 Gifford Beal (1879 – 1956)
Summer Scene
Between 1903 and 1904 Gifford Beal decorated one of the dining room doors with this tonal view of the Lieutenant River that flowed behind the Griswold House along the western edge of the property. The daring composition spanning two panels is mostly sky, overcast and cloudy, and is anchored by a dramatically low horizon. Clouds that billow dark and heavy in the vast sky counterbalance the diminutive figures and slivers of land below. In the left panel, two men are shown in near silhouette against the silver gray of the water somewhat intrigued by the simple catboat moored on the shore of the shallow tidal river.
Beal's door panel attracted the attention of his fellows at the boardinghouse for more than its imagery, and they delighted in joshing him about it. Reportedly, in this instance he mixed salad oil from the dining room table into his paints instead of linseed or other oils that artists traditionally use. The result was that his door took two years to dry. Each morning his friends made a point of touching the surface to see how the drying process was coming along. Thus the painting collected an array of fingerprints in the tacky surface as well as some loss that is evident in the lower right corner even today.
GIFFORD BEAL (1879-1956)
SUMMER SCENE, C. 1905-06
OIL ON WOOD PANEL
GIFT OF THE ARTIST
A son, brother, and friend to the American Art world.
From a Family of Artists
Although the Impressionist Childe Hassam was a family friend, Beal's painting style was more realistic, tonal, and bucolic when in Old Lyme.  Later, however, he preferred strong bright colors.  His style became increasingly diverse as did his subject matter.
The son of landscape painter William Reynolds Beal and the younger brother of artist Reynolds Beal, Gifford Beal was also known as a muralist and etcher in addition to a painter who achieved early recognition in the New York art world.  After 1921 he spent most summers sailing and painting along the coast of Massachusetts.