Programs & Events
Wee Faerie Village Artists
Museum hours: Tues-Sun*, 10am-5pm. Café Flo hours: Tues-Sun, 11:30am-2:30pm. *The Museum will be open Monday, October 9.
Mary Ann Rumney Besier
Mary Ann is a Charter Trustee and former President of the Board of Trustees of the Florence Griswold Museum in Old Lyme.  When not working on her latest attempt at a faerie dwelling, Mary Ann is searching through antique shops, secondhand and junk stores searching for "just the right thing" for her next "painting"–assemblies of small objects arranged together, all with the same theme.  She appreciates the smallest old antique bits and loves the challenge of finding places for them in her work.  She has a passion for art, architecture and the  decorative arts and enjoys researching the history surrounding each work she creates, whether a faerie inspired abode or an assemblage.
Mary Ann holds an AB in Art from Mount Holyoke College and a BFA and MFA in Graphic Design from Yale University.  She is Principal of the design firm Rumney Associates located in Madison, CT.  The firm, which she founded in 1972, provides Graphic Design services for the design of way-finding sign systems for public, institutional, and private projects.  Her firm designed both the interior and exterior sign systems for the Florence Griswold Museum.  Rumney Associates is currently designing the sign systems for both the CT Fastrak Busway between Hartford and New Britain and the new Railroad. Stations between New Haven and Springfield, MA.
The Good Witch Grants Dorothy's Wish: 2013
This faerie castle was built for Glinda the Good Witch of the Wizard of Oz.  Glinda rules the Land of the Quadlings. In Quadling Land everything is painted red.  Glinda surrounds herself with opulent furnishings in red and white and all things heart shaped. She is a benevolent but wise and powerful ruler. It is Glinda who has the power to return Dorothy to her home in Kansas.
May Ann collaborated with Ruth Baxter Tagliatella 2009 – 2013.
Chris Blackshaw
Chris Blackshaw works as the visual arts teacher for the Expeditionary Learning school ISAAC (Interdistrict School for Arts and Communication) in downtown, New London. When not writing art units, planning lessons, or collaborating with colleagues, Blackshaw paints and works on mixed media sculptures. Blackshaw continues to study at RISD-Continuing Education learning about mosaics.
Blackshaw is interested in the formal elements of design and applying those through a sense of place and space. Often inspired by nature, architecture and landscape, Blackshaw draws on these sources to create abstract paintings and sculptures.
Blackshaw holds a M.A.T in Art and Design Education from the Rhode Island School of Design. In addition, Blackshaw earned a B.F.A in Sculpture/3D Studies with a minor in art history from the University of Massachusetts Dartmouth, plus a B.A. from Providence College.
Chris is an art teacher at the ISAAC School in New London. In 2016 she will lead her students to collaborate on their own installation for Wee Faerie Village.
The Flying Monkey Lair
Chris Blackshaw in collaboration with fellow artist and sister Justine Lavigne, created The Flying Monkey Lair for the Florence Griswold Museum's Wee Faerie Exhibit in the Land of Oz.
Robin Breeding
Robin Breeding is a "Jack-of-all-trades", combining the decorative arts with graphic and fine. She earned a BA, Phi Beta Kappa, from Oberlin College in 1995, with a combined major of fine arts, performance and writing. She spent the following year in St. Petersburg, Russia as a Thomas J. Watson Fellow. Her project "Finding Russia: Art through the lens of the former Soviet Union" focused on the collection and assemblage of found objects and narratives.
Robin went on to earn an MFA in sculpture at the University of Illinois, Urbana-Champaign where she also taught drawing for 3 years.
She received her formal instruction in faux and decorative painting at the Isabel O'Neil Studio-Workshop in New York.
In Old Lyme and Nantucket, Robin works as a graphic designer, decorative painter and maker of fine objects for the home. She also plays an active role in scenic design and set decoration. You can see more of what she does on her website: breedingandstroud.com
Cathy (Kathleen) DeMeo
Cathy DeMeo's primary medium is printmaking. She specializes in painterly monotypes, and her subjects are imaginative landscapes and geometric abstractions incorporating rich texture and color. Her work has been shown in many respected juried exhibitions including the Center for Contemporary Printmaking's biennial "FootPrint International" and the Connecticut Academy of Fine Arts national exhibition, and her monotypes have merited several "best in show" prizes among other awards.
Cathy also loves creating mixed-media installations for FGM's Wee Faerie Village. 2018 marks her sixth time participating after a two-year hiatus. Her WFV creations have gained wide recognition. One fan favorite, pictured here, is "Emerald City" from 2013's "Land of Oz" exhibit.
More of Cathy's work can be viewed on her website at kathleendemeo.com.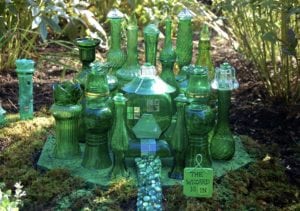 Pam Erickson
Pam Erickson is a graduate in Graphic design from The School of Visual Arts, NYC. She has been exhibiting her mixed media work in galleries nationwide since 1995.
She has received two Connecticut Arts Commission Grants since relocating to Connecticut in 1998. She lives and maintains a studio in Ivoryton.
Pam Erickson's assemblage and sculpture employ a wide range of non-traditional mediums. Some materials being quite personal: early family photos, hair from her cats and dogs, the shed skin of a pet iguana and bones from chickens fed to family and friends, etc, etc. Perhaps the most intimate being the threads, hair and the very D.N.A. tangled up in lint from the clothes dryer has led her down this path of being compelled to reinvent and transform these artifacts.
Where one might have difficulty putting her into a genre as an artist, Erickson has categorized herself simply as a "Conceptual Crafter."
Katie Scarlett Faile
Katie Scarlett Faile, from the Appalachian Mountains of North GA, grew up in a family of artists. Her grandmother, a well regarded calligrapher and watercolorist, says her "Katie-diddle-doll just wiggles her pencil and can draw anything." Her father, a craftsman carpenter, was always a bit baffled by the fairy and troll illustrations his daughter was forever doodling.
Katie is an active member of the Society of Children's Book Writers and Illustrators. Her works showcase a variety of mediums on an array of artistic subjects including film concepts, book illustrations, and maritime art. Her art is known for creativity, detail and whimsy.
Katie resides in Connecticut with her husband, Erik, a U.S. Navy submarine officer, and her beloved pooch Maximus. She works in the third floor art studio of her quirky Victorian home and spends most of her days surrounded by paints, papers, gnomes, fairies, and the occasional sailboat or submarine.
Technicolor Snail and His Trusty Gnome
Watercolor and ink on cold-pressed paper
katiescarlettfaile.carbonmade.com
katiescarlettfaile@gmail.com
Garden Gang Group
Our Garden Gang Group of friends have participated in the Wee Faerie Village events since their inception in 2009, each of us bringing our own talent and sensibility to the final project.
Dee Dee Charnok, a Master Gardener, lives in Lyme and has serially converted the land around her homes as she moved from Essex (two there) to Lyme into glorious gardens, having been a landscape designer for 22 years. She excels in many artistic endeavors and has recently begun painting in her newest home, in a historic studio on the property. Dee Dee has been a volunteer in the Garden Gang for twelve years.
Teddi Curtiss studied art at Boston College and the University of Colorado, is a member of the Lyme Academy College of Art, and the Mystic Art Association, both in which she has exhibited her oils in juried shows. Many of Teddi's paintings can be found in private collections throughout the East Coast. A twenty year member of the Lyme Garden Club, she has been a veteran in the Garden Gang for twenty-six years.
Gay Thorn, also a Master Gardener, has been a lifelong gardener, a member of the Essex Garden Club for twenty-two years, having also served as past president there. A stalwart support of the Club's May Market, she has also opened her gardens to the public and been a featured delight in 2009 as a part of the Child and Family Garden Tour fundraiser. Gay has participated as a member of the Garden Gang for twelve years.
Bobbie Padgett, yet another Master Gardener, has only been a resident of Old Lyme for eleven years, having married a Naval Officer and ergo been on the move for most of her married life.  She is a twelve-year member of the Garden Gang.  Her schooling from the University of California at Berkeley where she received a BA in Art practice, along with her traveling lifestyle during which she "collected" ephemera, inspired her to start a business designing brooches called "Bobbie-Pins.com"
The Cheshire Cat
The Garden Gang friends were responsible for "The Cheshire Cat" for the 2014 Wee Faerie Village – Alice in a Steampunk'd Wonderland.
Dave Graybill
Dave Graybill is an Old Lyme native. He runs a family business in town, All Pro Automotive and co-own Graybill Properties LLC.
Dave studied at the Art Institute of Boston for fine arts and abroad in Florence, Italy. After Graduation in 2001 he went back to travel Europe to experience the different cultures and art before settling back to Old Lyme.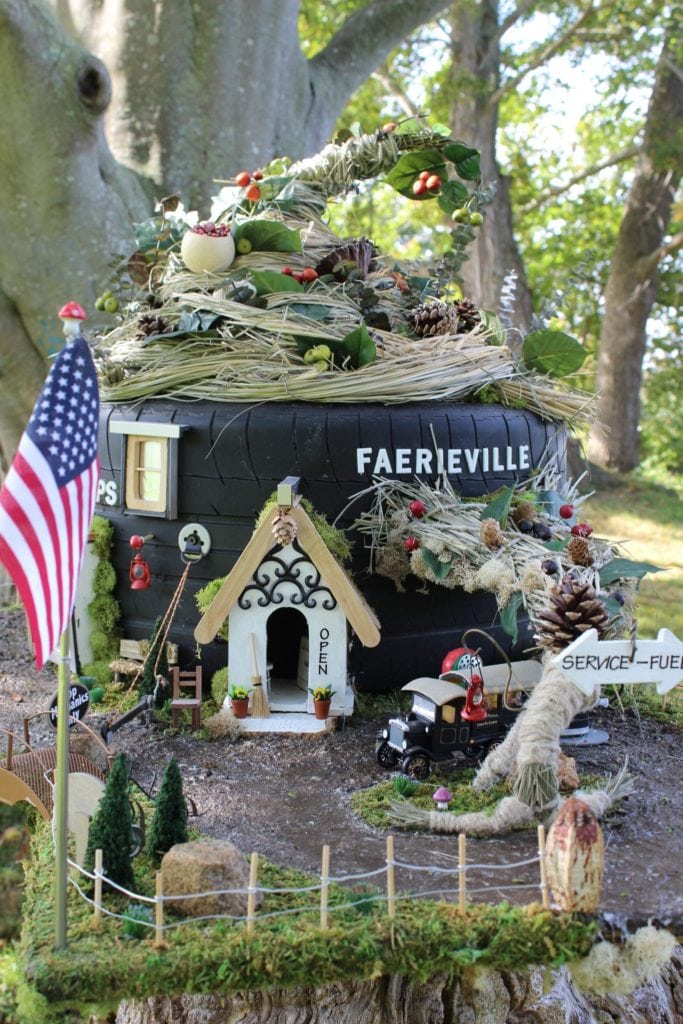 Carol Hall-Jordan & Kathryn Stocking-Koza
Carol Hall-Jordan is a life long resident of Berkshire County. She enjoys combining her love of children's literature and nature to create whimsical wee folk dwellings. Teaching third graders for 41 years helped develop her sense of humor and love of fantasy.
Carol's miniature houses are constructed from driftwood, seashells, and see glass found walking the beaches in Maine. The moss, lichen and other natural materials are collected on daily hikes in the woods. Carol also makes needle felted wee folk.
Kathryn Stocking-Koza is a retired educator from the Berkshires in Western Massachusetts. Art has always been a part of her life, recently finding a sketchbook from when she was eight years old. Kathryn is also an amateur painter.
Kathryn and Carol have been friends for over forty years. Since 2012 they have been creating artwork from driftwood and other natural materials found along the Eastern shores of the United States. Their work includes fairy houses, sculptures, and driftwood "paintings".
Carol and Kathryn designed the Jack and the Beanstalk's castle with its secret passages, tower lookouts, and hidden doorways. They enjoyed the challenge of creating a kingdom for a specific story in an assigned outdoor space that would invite the viewer's imagination to take them into the fairy tale's magical world.
Lesley and John Keogh
Lesley and John Keogh Lesley is an avowed miniature enthusiast, and owns eight Dollhouses, which range from a vintage Marx-a-Mansion, a 1930's Bungalow, a Georgian townhouse and a sprawling Edwardian mansion.  John Keogh supports her in her hobby, but dreads accompanying her to antique stores, tag sales etc. as she is always looking for a new project.
The couple have been Danbury residents for 35 years and have 2 children, one is an artist in Easthampton, Massachusetts.  The other is a fireman and lives in Danbury with them.  John is a Robotics Engineer and Lesley has been with the Wilton Library Children's Dept. for 14 years.
This year's project is the Cottage dwelling of Baba Yaga, a child eating witch from Russian Folklore. Her house is unique in that it stands on chicken legs and doesn't have windows or doors.  The chicken legs (which will be made from heavy dowels with sculpy molded for the feet) will be the biggest challenge.
In 2014, they made a small steampunk house for Lewis Carroll's Walrus and Carpenter. To add to the mix of organic and mechanical, Lesley used real oyster shells with metal screws drilled through them. The house had a rope ladder on the roof that led to a walrus zeppelin.
Madeline T. Kwasniewski
Madeline T. Kwasniewski is a retired local entrepreneur whose time is dedicated towards her lifelong interest of creativity and design. "Bringing joy and happiness into peoples everyday lives has been the fruit of my lifelong labors. Since becoming involved with the Florence Griswold Museum, it has become an annual passion of mine to help contribute to the enjoyment, wonder and intrigue we see in the eyes of the visitors both young and old to our Wee Faerie Village displays."
Madeline's keen interest in creativity began in high school. Her art teacher Mr. Balboni, saw the ability in her vision and creative works. With the teachers urging, Madeline dove into the arts, eventually having several of her works portrayed to other classes by her teacher. Youthful exuberance led to adulthood responsibilities, the arts had to wait until unencumbered time was in her hands.
Madeline's faerie villages continue to bring joy and creative influence to others while they travel on display at other museums in the greater New London area. Along with her husband T. Arthur Donnelly, they opened "Splinters" to exhibit their whimsical, fun, fine arts and crafts at various juried events such as the Niantic Art Show and the Mystic Outdoor Art Festival.
T. Arthur Donnelly
T Arthur Donnelly received his Cabinetmaking apprenticeship from Bullard Haven Tech in the early 70's. Experience was obtained working at an antique restoration business in Westport CT. Next he opened his own custom furniture fabrication, restoration and repair business. He left the woodworking trade to enter a 40-year career within the Aerospace Industry.
T Arthur is returning to his craft creating useful artistic forms from native trees to sculpt them into select bowls, vases, plates and furniture.
Teaming up with his wife Madeline Kwasniewski they opened "Splinters" a wood based reclamation business capturing raw materials slated for fireplaces, wood chippers and landfills to transform them into whimsical, fun, fine arts and crafts.
Ingrid Lavoie
Ingrid Lavoie is a paper artist who works in the German tradition know as scherenschnitte. This practice of paper cutting translates to scissors cuts. She was smitten by this craft on a trip to Denmark in her teens. This passion for cut paper has been honed over the years. Currently she teaches paper cutting at the Handicraft Club of Providence, the Newport Art Museum's Coleman Center and this March, the John Cambell Folk School in North Carolina. This past December she contributed a palette to Florence's Tree at the Florence Griswold Museum. Her work can be found at Studio Hop in Providence and online in her etsy shop;
http://www.ingridlavoiepapercutting.com
Ingrid earned her BFA in Illustration from the Rhode Island School of Design. She is thrilled to give 2D paper cutting a presence in the Village.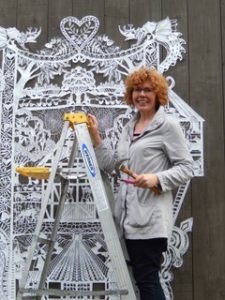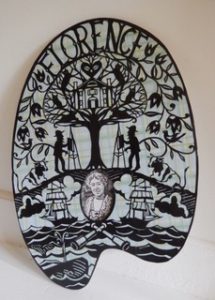 Ingrid installing her creation for Wee Faerie Village 2016 and the palette she was asked to make for the Museum's Miss Florence's Artist Trees (a feature of the Magic of Christmas celebration).
Sean Langlais
Sean Langlais has exhibited his work in various venues from Boston to New York including Exit Art and Mills Gallery. He creates his own unique expressions of motion, sound, kinetic energy, and time and his work explores the nature and history of material culture and applied technology. Sean is professor of art at Three Rivers Community College. He earned his MFA degree at UMASS Amherst. A Connecticut native, he resides in Norwich, with his wife, artist Sandra Jeknavorian and their son, Charlie.
Maleficent
In 2015 Sean and his wife Sandra Jeknavorian created "Maleficent" for Whimsical Kingdoms.
Lori and Rich Lenz
Lori and Rich Lenz are thrilled to combine their creative talents this year for the Wee Faire Village exhibit.  Working from their vintage barn studio and workshop overlooking Post Cove and the Connecticut River, Lori and Rich use a never-ending supply of inspirations from both nature and industry to create both fine art and industrial handcrafts.
Lori holds a BFA in Painting from the University of Connecticut and a MS in Art Education and currently teaches visual arts at Chester Elementary School.  Rich earned his BS in Industrial Technology from the University of Wisconsin-Stout and is currently a Project Administrator for Richard Riggio and Sons Inc.
 Learn more of about Lori's art and ideas at lorilenz.com
Lori has previously collaborated with son Edward creating Fairie houses for the Florence Griswold Museum's Wee Faerie Exhibits: Whimsical Kingdoms, In The Land of  Oz, and In the Land of Picture Making.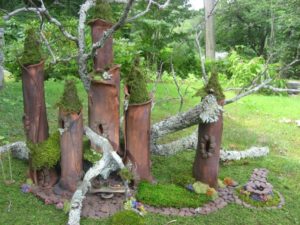 Nancy MacBride
Nancy MacBride's sculpture often reflects a love of nature, spirituality and objects worn with their own history.
Nancy's work has been shown in local juried and invitational exhibitions as well as Vietnam, TX, MD, NY and RI. Her art has received awards including best sculpture in the CT Artists Exhibition 2013. War Resister's League NE, Voluntown Peace Trust and South Kingston Land Trust have her art in their collections. Art Doll Quarterly published articles about her work. She was their profile artist Summer 2011. Nancy received a MAE from Rhode Island School of Design.
Nancy teaches art to Voluntown's pre-k through eighth grade students. CT Art Education Association named her "Outstanding Elementary Art Teacher of the Year". She also received awards as an art educator from CT Dept of Education as well as private foundations. Nancy enjoyed teaching figure sculpture to AIDS Widows and Orphans in Zambia in July 2013.
Nancy's home studio is at Beach Pond on the border of CT and RI.  More of her art can be see at: nancy-macbride.squarespace.com
Bridge Fey at Voluntown Peace Trust
7′ tall, mixed media
Erica Mann
Erica Mann was lucky enough to grow up with parents who fostered a love and appreciation for art. As a result, she has created and experimented with many types of media and materials over the years. Recently, she has mixed her life long love of fairies with the creation of miniatures. The result is an amazing, fully decorated fairy dollhouse inhabited by a little pixie named Whimsy Nettlepatch. Whimsy, who also happens to be an artist, has over 700 followers and can be found at
https://www.facebook.com/whimsynettlepatch/
 .  Erica also created a fairy door for Putnam Connecticut's first Friday celebrations. Every year artists create miniature doors that are hidden throughout the downtown area and are made in keeping with a theme.
Erica is a preschool teacher who resides in the "Quiet Corner" of Connecticut. She lives with her boyfriend and 13 year old son, to whom she is eternally grateful for their support and help. They have helped collect nature materials and tolerated their kitchen becoming an art studio. Erica is happy to have worked on The Faerieville Elementary school. It has been a fun way to mix her love of teaching, love of creativity and the magic of fairies!
Chris & Betsy Marshall
Chris and Betsy Marshall both work in the field of education.  Chris is the Director of Facilities at a local district near Rochester, NY and Betsy is a Parent Educator at another district in the Rochester area.  The couple began making Fairy houses in 2013 for local festivals and were on exhibit at the Margaret Woodbury Strong Museum. However, the most rewarding endeavor was when they began installing fairy doors in a local park (Tinker Nature Park, Henrietta, NY).  This year round Fairy Trail encourages young and old believers to search the woods for enchanting abodes, hoping to see the elusive fairies who reside in them.  
Chris and Betsy are inspired by the objects they find and collect when they go for hikes with their four children in Western New York.  In addition to creating whimsical homes for wee folks, Chris and Betsy share a passion for nature and wildlife photography.  
In 2015, Chris and Betsy Marshall created Beauty and the Beast for the Wee Faerie Village and in 2016 they were thrilled to design and build Big Ben to share on the grounds of the Florence Griswold Museum.
Metalclay Artisan Guild CT
Metalclay Artisan Guild in CT, a guild based in Windsor, CT is dedicated to furthering excellence and nurturing the development of powdered metallurgy as an art medium.
In 2014, the Metalclay Artisan Guild, or MAGIC for short, took on the Wee Faerie Village for the first time. A team of dedicated artists came together to create an installation involving fabricated doors, Faerie elevator, mad scientist steampunk faerie lab and more for the Steampunk Alice in Wonderland village.
The Guild took on the enjoyable task of bringing The Lord of the Rings to life for 2015's Whimsical Kingdoms village, creating a Hobbit house, the city of Gondor and Tower of Mordor.
2016 A Flutter in Time, Faerie Houses Around the World & Across the ages, the Guild took on the challenge of creating a Faerie house inspired by Notre Dame Catherdral in Medieval Paris, which included stained-glass shrinky-dink windows and hand-made gargoyles.
The artists working on 2017's installation is Michal Brown, Sara Brown, Lynda Cmara, Lis-el Crowley, Bevlynn Gallant, Susan Hushin, Sharon Lamonakis, and Bettina Rowlands.
For more information on the Guild, you can see our website, metalclayguildct.org. For more information on Lis-el Crowley, you can visit liselcrowley.com.
David D.J. Rau
David D.J. Rau is the Director of Education & Outreach at the Florence Griswold Museum in Old Lyme. When not making faerie houses, Rau works in both collage and assemblage. Rau's art has been featured at the Sylvan Gallery in Clinton, CT (closed), the Chester Gallery in Chester, CT, and The Cooley Gallery in Old Lyme, CT. Rau studied collage with Maureen McCabe at Connecticut College.  He has also taken several classes in papermaking and small books at RISD-Continuing Education, and the Center for Book Arts in New York City. Rau is part of a two-man show at the Lori Warner Gallery in Chester, CT in October 2016.
Rau is inspired by the past, and his aesthetic combines vintage photography, tattered paper, intriguing ephemera, and antiques.
Rau holds a Masters at the University of Michigan in Art History as well as a Certificate in Museum Studies. He currently teaches Museum Study courses in the Art History Department at Connecticut College.
Nevergreen Caverns: 2012
This house was for the faerie Tym-Brrr, a faerie of tree stumps and dead wood, who inspires the artists to include twisted and broken trees in their paintings. The stump caves included cave art depicting how trees are made "never green" such as being cut down by man with an ax or felled by storms, etc.
Christopher Steiner & Rhett Steiner
Christopher Steiner teaches art history and anthropology at Connecticut College, where he also directs the museum studies program. He has been involved in the Wee Faerie Village project since its inception in 2009. His contributions are often tinged with a flair of humor or irony, such as his 2011 birdhouse based on the Emperor's New Clothes which displayed "nothing" but an audio track of people admiring the beauty of a birdhouse that was not there. cbste@conncoll.edu
Rhett Steiner is a junior at Lyme-Old Lyme High School. He lives in Lyme, where he serves as a volunteer firefighter in the Lyme Fire Company. Rhett enjoys mechanical engineering, restoring old tractors and repairing truck and automobile engines.
Caterpillar with Hookas: 2014
Wee Faerie Village in a Steampunk'd Wonderland
Kristen Thornton
Kristen Thornton is a teaching artist at several local schools and art centers. With a wide range of knowledge in many mediums, she teaches classes from drawing and painting to fashion, as well as art enrichment for special needs and main stream class rooms with a connection   to academic grade level curriculums. She works with The Mystic Art Center, Lyme Parks and Recreation, and Learn. She began her studies at Moore College of Art and Design in Philadelphia, PA and has a bachelor of Fine arts from the University of Connecticut and  is continuing further study in art certification. Her focus of study was in illustration and has shown her  work at the Mystic Art Center, local restaurants, the Pheobe Griffin Library, and the Jonathan Edwards Winery.  Kristen has created several murals for local businesses (The Book Barn, The Grey School of Dance, Shoreline Health and Fitness), schools (Lyme Consolidated, Nathan Hale, and St. Marks Toddler Playgroup), and homes.
Autumnal Fortress
This house was created for the 2012 Wee Faerie Village with the nature theme of Autumn. Combining the beautiful colors of fall foliage and harvest and bringing in the bit of inspiration from All Hallows' eve.
Bill Vollers
Bill Vollers resides and is owner of Gallery 31•47 located in Chester Ct. His gallery features his found art assemblages, antique primitives and folk art.
Bill's work was most recently exhibited in The Chelsea International Fine Art Competition Exhibition at the Agora Gallery, 530 West 25th Street New York, NY.
His work has been featured in INK Magazine and exhibited at: Diane Birdsall Gallery,The Lori Warner Gallery and Studio, The Devon House Gallery, The Chester Gallery, The Art Center at Killingworth,The Spectrum Gallery, The Chester Historical Society, The Essex Art Association, The Erickson-Davis Gallery, and The Wesleyan Potters Annual Exhibit and Sale
Bill finds inspiration in the imperfections and natural deterioration of objects. His minimalist wood sculptures speak to his connection to Zen Buddhism in particular the Wabi-Sabi aesthetic. Each sculpture brings to focus those often overlooked everyday items, granting them a simple elegance, beauty, and importance. They stand, proud and sure, as abstract homages to moments and mementos from a recognizable life.
Bill holds a BFA degree from The Syracuse University School of Art.
He partnered with Dawn Hutchins for the 2016 Wee Faerie Village.
The Will Howe Foote Faerie House: 2009
The concept for this project was to choose an impressionist artist that was associated with Florence Griswold. The idea was to have items and artifacts within the dwelling that would relate to the artist. My artist was Will Howe Foote (1874-1965)
860 322 4259
45 Main Street
Chester CT 06412
Jessica Zeedyk
Jessica Zeedyk has always had a passion for miniatures and faerie homes and gardens. Constructing mini worlds since childhood. She enthusiastically joins the Florence Griswold Museum's Wee Faerie village for her Fourth exhibit.
Zeedyk has training in photography, illustration and graphic design. She spends her time creating art as a hobby, and also creating for her small home based business; Hand Painted Glassware by Jessica. She sells her painted glasses locally, as well as ships them all over the world through her etsy.com shop.
The Wee Faerie village has inspired Zeedyk to share the faerie world with others. She has introduced Faeries to her own children as well as children in her community. She also recently opened a second etsy shop selling Faerie themed items and crafts.
The Wizard of Oz Chapter 15; The Discovery of Oz the Terrible: 2013
This photo shows the gates to Zeedyk's faerie interpretation of the city of OZ. Beyond the gates you can see the main structures, made of logs, green glass bottles and custom leaf-shaped copper roofs.
etsy.com/shop/handpaintedbyjessica
facebook.com/HandPaintedglassbyJess
https://www.etsy.com/shop/Weewingsandthings