Learn
FloGris ArtReach with Julie
24-hour advance reservations are available. Visitors without pre-booked tickets will be admitted as capacity allows. Masks and physical distancing are required of everyone onsite regardless of vaccination status.
Reaching Out and Creating Art
Watch for a new FloGris ArtReach projects coming each month! Scroll down to see earlier projects. These hands-on/minds-on activities are designed for all skill levels and to inspire your creative individuality. Most projects can be made with materials you can find around the house.
Take your time and enjoy the art-making process.
Check back often to see how other people completed their ArtReach projects.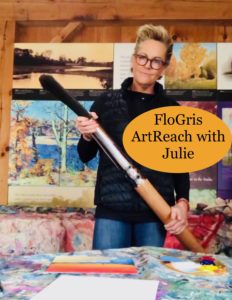 Questions? Contact Julie
Share with us...
Your Artwork!
Email Tammi a picture of your creation, or you with your creation! You can also send us a sentence or two about the project.
In subject line of email "FloGrisArtReach project"
By sending us a photo or quote, you are allowing us to reproduce it for marketing purposes.
If you would like for us to acknowledge you, please let us know how. "Weston Family," "Joey," "Max Flynn from Old Lyme," "Abby, age 13"
If you post your project on social media, please tag  and #hashtag the Museum.
Instagram: @FlorenceGriswoldMuseum
Facebook: @FlorenceGriswoldMuseum
Twitter: @GriswoldMuseum
#FloGris #FloGrisArtReach