Dana Sherwood: Animal Appetites and Other Encounters in Wildness
May 21-September 18, 2022
Museum hours: Tues-Sun, 10am-5pm; Café Flo hours: Tues-Sun, 11:30am-2:30pm.
This exhibition has been made possible

by

the generous support of

Connecticut Humanities, the Department of Economic and Community Development, Connecticut Office of the Arts

, The Aeroflex Foundation, Mr. Andy Baxter, Mr. and Mrs. Robert D. Webster, Mr. and Mrs. Roy Moore, Wayne and Barbara Harms, Bouvier Insurance,

Mr. & Mrs.

Jeb

Embree,

as well as donors to the Museum's Annual Fund.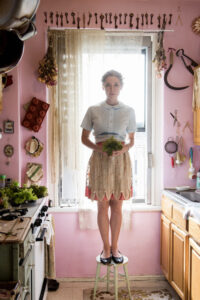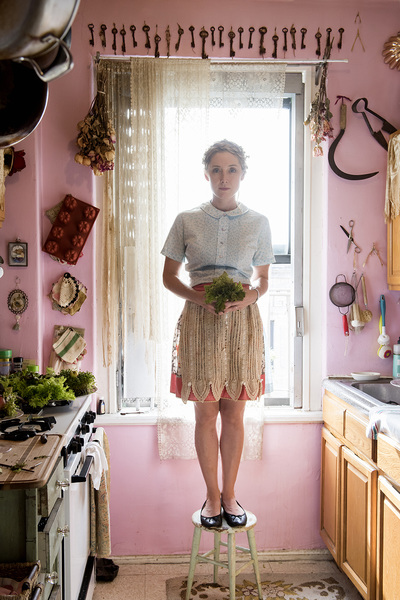 In her first museum survey Dana Sherwood (b. 1977) exhibits films, sculpture installations, oil and watercolor paintings created over the past ten years that interrogate the relationship between wild nature and domestic culture, drawing on her research into cross-species communication, the feminine experience, historic literature, and the occult.
Born on Long Island and based in New York's Hudson Valley, Sherwood has become known for her evolving attempts to communicate with animals through her elaborate nocturnal banquets. She researches the animals' natural diets and sets up beautiful cakes, colorful fruit-studded gelatin molds, raw meat, and confectionaries. These delectables are positioned in front of an infrared, night-vision camera, allowing her to capture video of the beasts who enjoy her buffet. Seeking to entice and better understand the animal life that lives on the periphery of human populations, Sherwood considers wild nature as both her subject and collaborator, which proves unpredictable time after time. "When you invite the chaos of nature as a collaborator, there's no telling what's going to happen." ~Dana Sherwood
During the summer of 2021 Sherwood served as the Museum's second Artist-in-Residence and worked toward the creation of a new commission inspired by the Museum's core story. Inspired by the history of the Lyme Art Colony, Sherwood created a three-dimensional stage set on the Museum's grounds that replicates at scale the Artist's Bedroom in the Florence Griswold House. Over the course of three months the artist placed her culinary creations within the structure to entice animals to interact with the interior and be captured on video. The set will be displayed in the exhibition along with the video.
The artist encourages us to contemplate how wild animals are constantly responding and adapting to humans' impact on the environment that we share, such as the encroachment of urban and suburban development on their habitats. Her research shows how animals' diets have evolved based on the availability of food waste produced by humans. As she has observed, they love the processed foods she offers like donuts and hot dogs (which many have sampled from overturned trashcans). Given the choice, she notes, "no one ever eats the kale!" Still, her experiments continue to surprise the artist and her audiences. Viewers experience within these films a simultaneous mix of whimsy, comedy, and the seriousness of the subject.
Sherwood creates watercolor sketches throughout her process, anticipating and reacting to the experience of the making, devouring, and deconstruction of the display captured by her camera.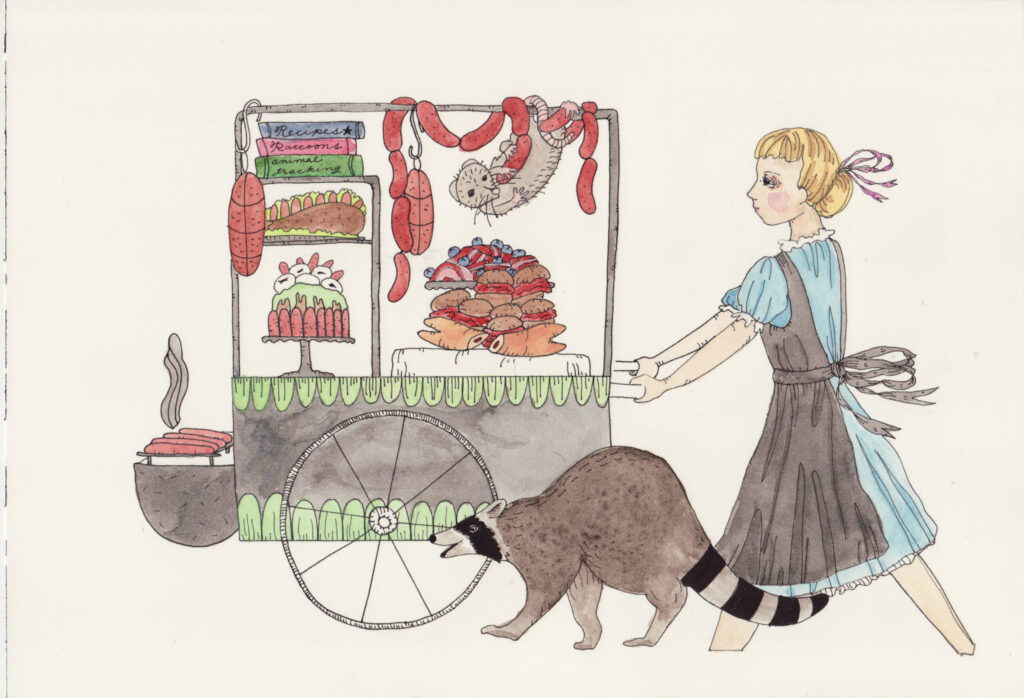 Wild Animal's Food Cart, 2014. Ink and watercolor on paper, 7 x 10 in. Collection of Sheila Parekh Blum and Christopher G. Blum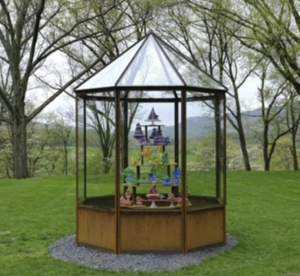 Sculptural pieces like The Conservatory for Confectionary Curiosities transports the viewer to a French greenhouse filled with cast-resin gastronomical delights dotted with real, preserved insects, which appear to be trapped after attempting to consume them.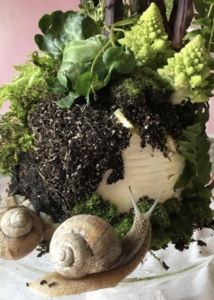 Hybrid works like The Confectionary Lives of Snails become their own ecosystems, where live snails feast on plants, flowers, and cakes. A display of glass-domed creations on the Griswold House dining room table invites viewers to contemplate the historic space enlivened by Sherwood's contemporary voice—where animals will be dining instead of dined upon.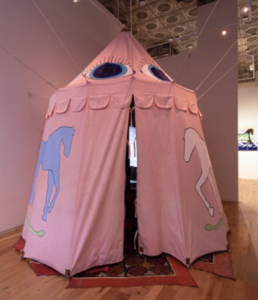 Another dimension of Sherwood's work considers the intersection of the contemporary world, and particularly the feminine experience, with the occult, myth, ritual, historic literature, and dreams. Selected paintings depict versions of Alice in Wonderland, Persephone, or Medusa as heroine-protagonists in her narratives, juxtaposed with animals, food, and ancient iconography.
Her newest works build on her prior experiments by working with horses, and incorporate symbolism and references from myths that portrayed humans and animals as more closely intertwined. In her project, See/Sight (Sight Equus Mongolia), Sherwood used an infrared camera to film domestic and wild horses in Mongolia during the daytime, creating an abstract collage of footage featuring her young son and the sound of his voice trying to form his first words. The work draws parallels between the toddler and the horses' behavior, who similarly and by chance, discover and approach the camera's lens.
A hardcover exhibition catalogue Dana Sherwood: Animal Appetites and Other Encounters in Wildness written by the Museum's Associate Curator and curator of the exhibition Jennifer Stettler Parsons was published May 2022. The publication appeals to a range of readers interested in contemporary art, art history, the environment, conservation, animal studies, food and cooking, feminism and feminist theory, and literature. It is available in the Museum's Shop and online.
Header Image: Seas of Horses and Cake (detail), 2019. Watercolor on paper, 36 ¾ x 51 ½ in.
All work by Dana Sherwood and Courtesy of the artist and Denny Dimin Gallery, New York, unless otherwise noted.