Documents: Sketches in an Autograph Book
ON November 6, 2015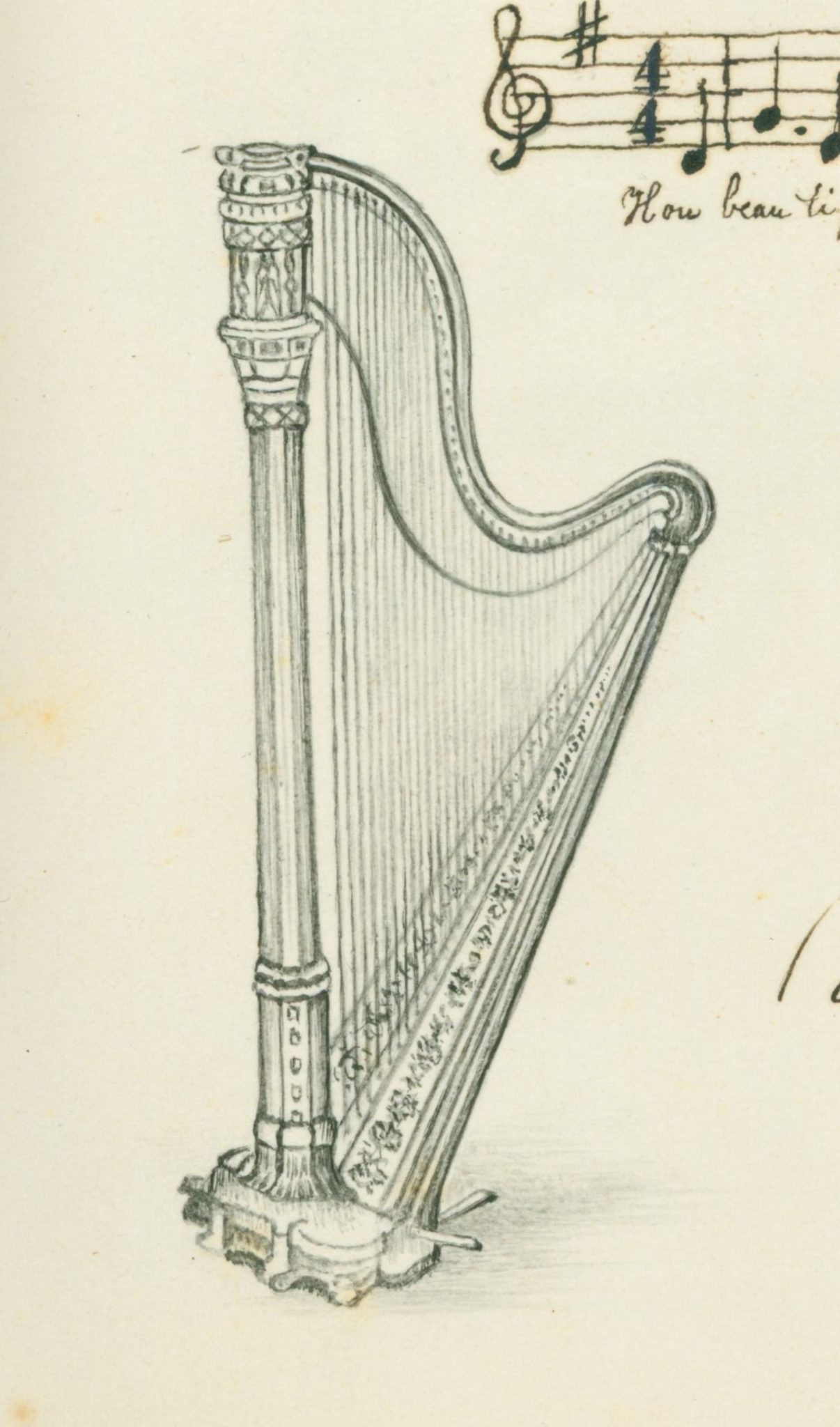 by Carolyn Wakeman
Feature Photo (above): Florence Griswold, family harp, pen and ink sketch, autograph book, 1878. Lyme Historical Society Archives
Midway through Rev. William B. Cary's leather-bound autograph book, Florence Griswold (1850–1937) and her sisters inscribed their names. They also contributed finely detailed sketches displaying their varied musical and artistic talents. Like the nocturnal landscape that Miss Florence painted on a postal card and mailed to a young friend in 1905, her drawing of the family's elegant harp confirms that the founder of the Lyme Art Colony was herself an accomplished artist.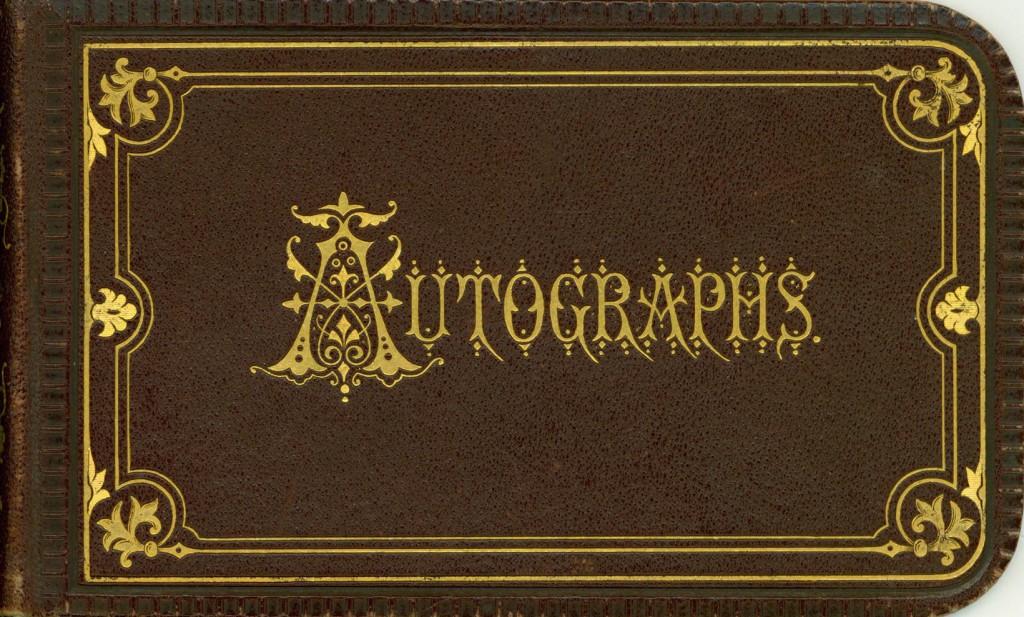 Autograph book cover, Rev. William B. Cary, 1876. LHSA
Autograph books reached their peak of popularity in the United States before the Civil War. In those slim volumes, often with ornately decorated covers and gilt-edged pages, friends, family members, and influential acquaintances entered signatures and often added inspirational messages, poems, or drawings. In later years the record book preserved names and illustrations that revived memories of a circle of friends, treasured moments, and scenes from a receding past.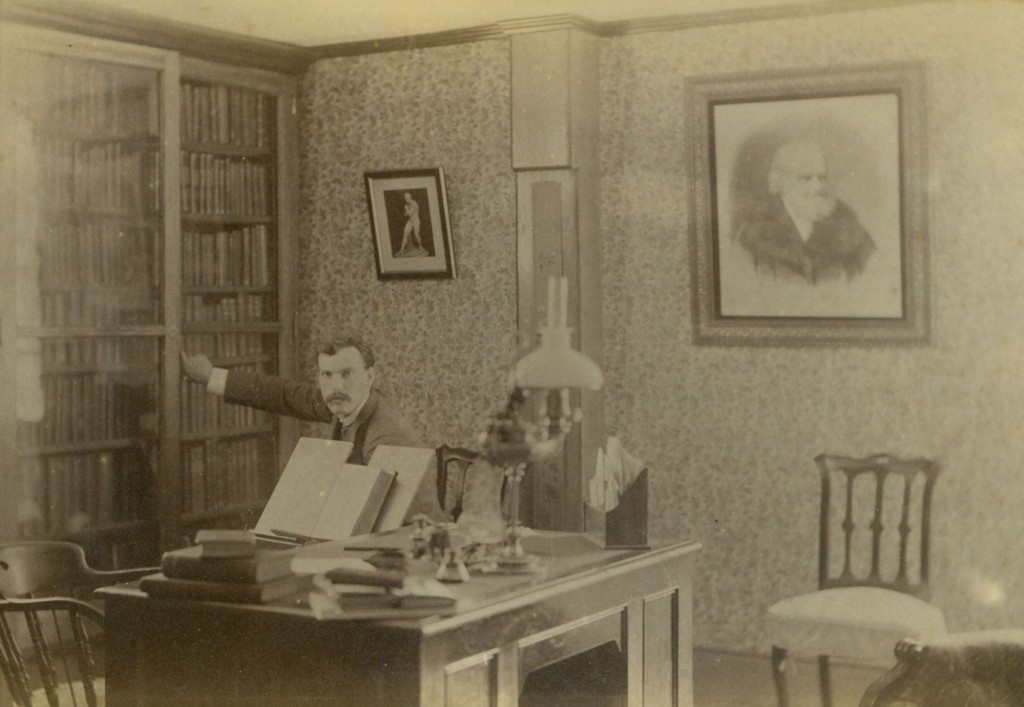 Rev. William B. Cary in his parsonage study, ca. 1878. Courtesy First Congregational Church of Old Lyme
Rev. Cary (1841–1923), a former Civil War cavalry officer and Old Lyme's Congregational Church minister from 1875 to 1884, purchased his autograph book as a souvenir at the Centennial Exposition in Philadelphia in 1876.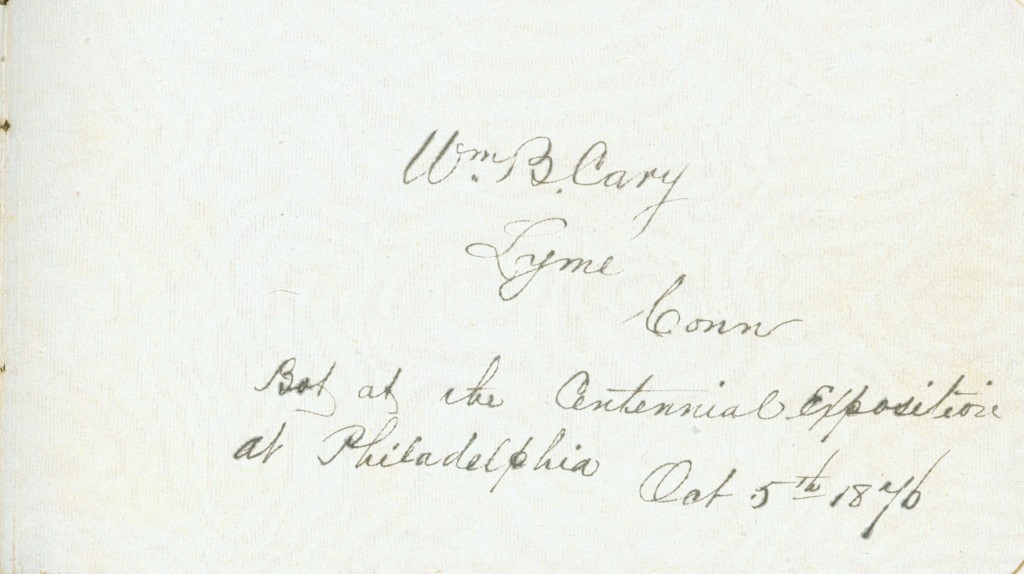 Rev. William B. Cary, autograph book, inside front cover, 1876. LHSA
After settling into the Connecticut community where he had distant Ely relatives, he gathered signatures from three of its most distinguished residents, Judge Charles J. McCurdy, Professor Edward S. Salisbury, and U.S. Supreme Court Chief Justice Morrison R. Waite. Three months later in January 1878 the minister passed his autograph book to the Griswold sisters, then preparing to open a girls' school in their home featuring instruction in music and art.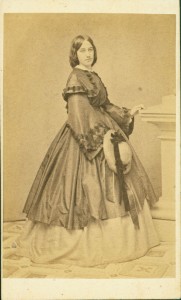 Florence Griswold, ca. 1870. LHSA
Florence, already a trained instrumentalist at age 27, demonstrated her skill with pen and ink in a sketch of the family's costly gilded harp. Louise (1842–1896), a gifted pianist and admired as the church organist, drafted for her minister a line from a favorite English anthem, "How beautiful Upon the Mountains." Adele (1845–1913), the most accomplished watercolorist among the talented Griswold sisters, contributed on the next page the delicate scene of a bluebird hovering beside a branch of pink cherry blossoms.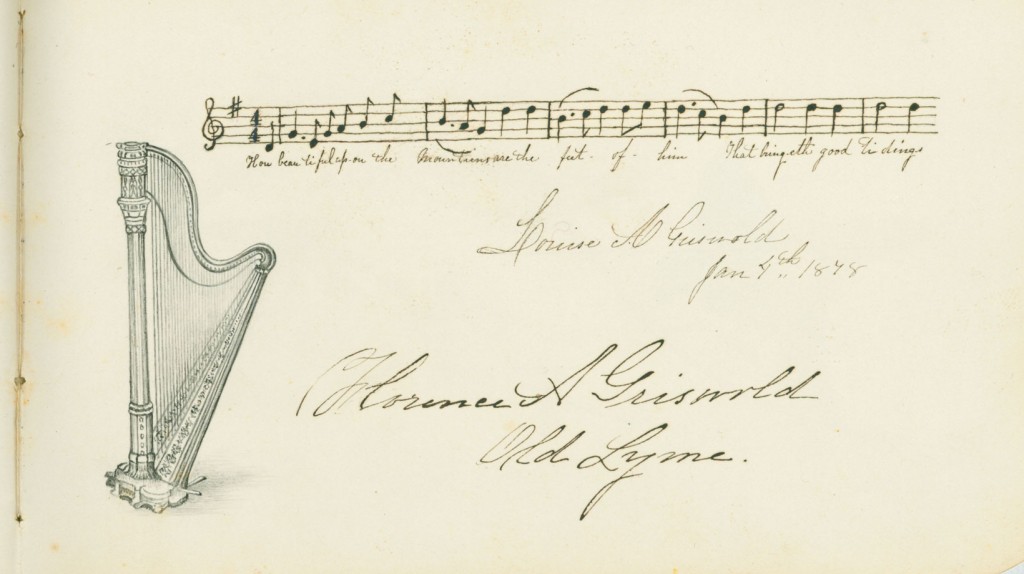 Louise Griswold, line from English anthem, pen and ink sketch, autograph book, 1878. LHSA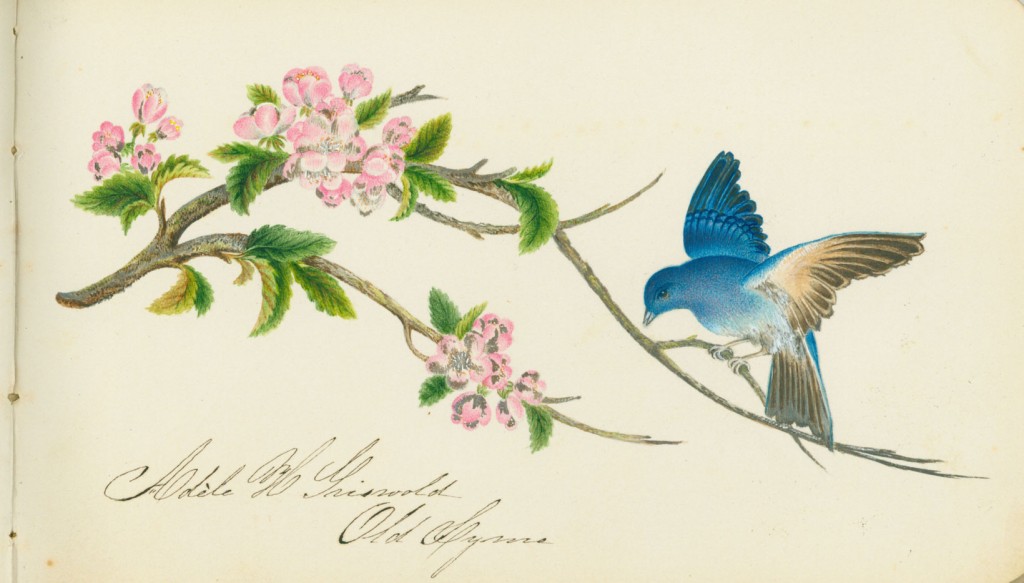 Adele Griswold, bluebird with cherry blossoms, watercolor sketch, autograph book, 1878. LHSA
The family harp, almost certainly the only instrument of its kind in town, had stood in the stately Griswold home since the early 1840s when Florence's father Robert Harper Griswold (1806–1882), a distinguished packet ship captain, carried it back from England as a gift for his young wife. Before her marriage Florence's mother Helen Powers Griswold (1820–1899) had studied piano and voice in Cincinnati and New York, and she delighted in singing and performing on different instruments to entertain friends while her husband was at sea. Today the handsome harp sketched in the minister's autograph book more than a century ago, and painted in 1903 by New York portraitist Alphonse Jongers (1872-1945), stands in the parlor of the Florence Griswold Museum.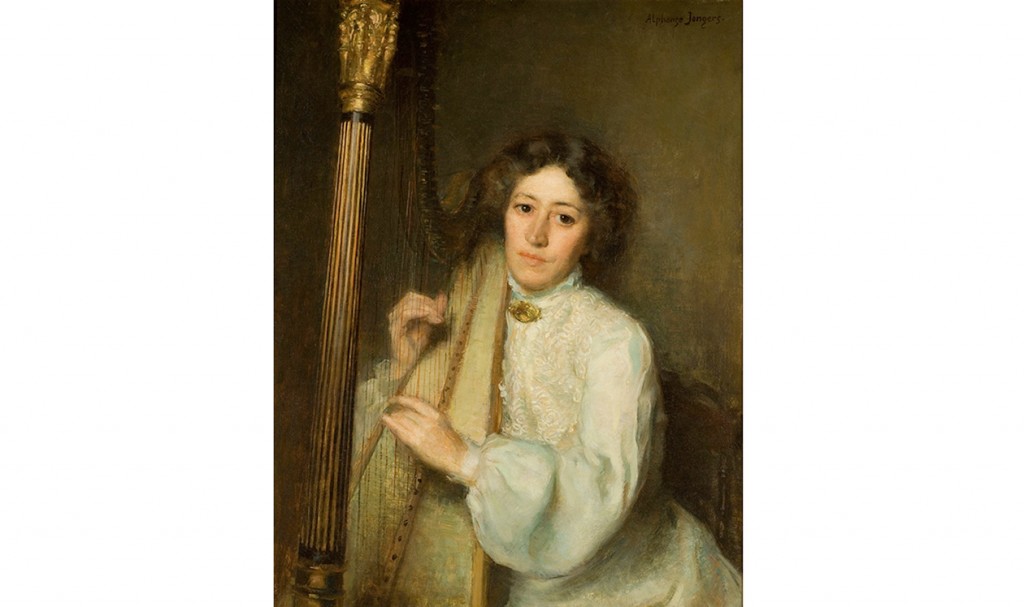 Alphonse Jongers, The Harpist, 1903. Oil on canvas. Florence Griswold Museum, Gift of the Lyme Art Association, 1954.5
More than half of Rev. Cary's autograph pages remain blank, but towards the end an unknown artist contributed in 1880 a cluster of drawings that capture Old Lyme's renowned church and other scenic local settings. Like the entries from the Griswold sisters, those graceful sketches remind us that the town had become "a place for art" even before the country's most celebrated landscape painters gathered at Miss Florence's home in 1900 and established the Lyme Art Colony.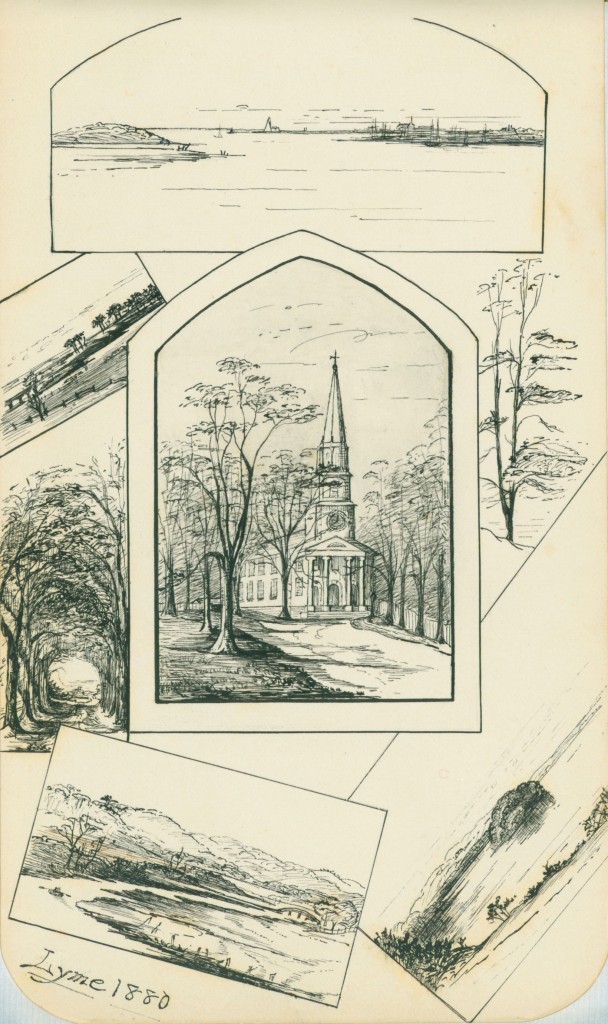 Old Lyme scenes, pen and ink sketches, autograph book, 1880. LHSA