By Mandy Prue, Wheaton College, FGM Intern 2014
Feature Photo [above]: The Front Cover of Daphne Ely's "Memory Book"
Daphne Ely was a resident of Lyme and active community member, but before settling down in the town where her ancestors had settled, Daphne lived in Hartford and documented her life from 1911-1914 in her scrapbook.  She was also an avid collector of newspaper clippings, local advertisements, and invitations to social events, and her scrapbook details four years in the life of a  Hartford socialite in the early 20th century. Chronologically arranged, the memory book is packed with calling cards, social correspondence, clippings related to college news, and theatre and music programs.  Many details can be gathered about her activities during this time period, but obviously her life continued on beyond the pages of this scrapbook.  In the following years, Daphne was married twice, developed a glass painting business out of her home, traveled often, and although she never had children of her own, she was a loving aunt to her nieces and nephews.  But through her scrapbook, we catch a glimpse of what it was like to be a young woman in Hartford during the early 1900s.  After assembling the scrapbook, Daphne grew into a gifted gardener, businesswoman, and valuable community member with a rich family history going back to the early days of Lyme.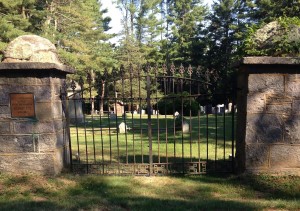 The front gate of Ely Cemetery, a burying ground specifically for the descendants of Richard Ely. Photo Mandy Prue
The Ely family genealogy traces back eight generations to the beginning of the Lyme settlement.  By the time Daphne was born November 11, 1891 in La Grange, Illinois, the family had dispersed.  According to census records, in 1900 Daphne was still living in Illinois with her mother Emma, father Edward, and two brothers Ernest and Palmer.  Sometime in the next few years, Daphne and her family moved to Connecticut, the home of their ancestors. The scrapbook encompasses the years when she was 20 – 24 years old and living in Hartford, where her grandfather Zebulon Stiles Ely was a prominent businessman.  At some point, she must have moved back to the Ely family's original home in Lyme because many letters addressed to her in Hartford have been redirected there.  A 1911 invitation to the Boxwood Luncheon from the Boxwood Alumnae Association indicates that as a young girl, Daphne attended the Boxwood School, a boarding academy in Old Lyme where young ladies received an education in the French language, art, music, and etiquette.  Daphne's time at the Boxwood School was evident, according to her nephew Morgan Ely, who said she was the ideal lady, always dressed up and never wore slacks.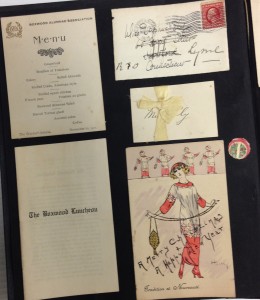 A page in Daphne's scrapbook includes an invitation to the Boxwood Luncheon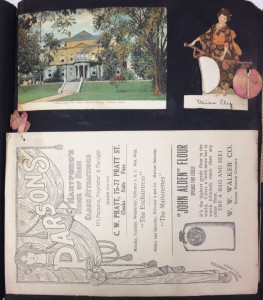 A page in Daphne's scrapbook includes a photo of the Alpha Delta Phi House of Amherst College
Although Daphne never went to university she was involved in collegiate activities all over New England and Connecticut including at Wesleyan in Middletown, Yale in New Haven, and Trinity in Hartford.  She must have had friends who attended these universities, and she joined them at various events including football games, dances, and concerts.  Perhaps it was at one of these college events where she met her first husband Arthur Bunnell.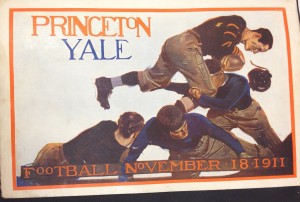 Advertisement for a Yale vs. Princeton football game in 1911
According to a New York Times article from Friday, September 5, 1913, Daphne married Arthur Bunnell in 1913.  The article states: "Bunnell-Ely Wedding on Sept. 26.  The wedding of Miss Daphne Ely, daughter of Mr. and Mrs E. Stiles Ely, Mr. Arthur Worthington Bunnell of Norwich, Conn., will take place at the home of the bride in Lyme, Conn." According to another census record, in 1920, Daphne with her husband in the Ely family mansion, a big stone house on the top of Lord Hill. She was said to have a walked from house to house with her brother Ernest to encourage the citizens of Lyme to accept electricity. Daphne and Arthur Bunnell divorced and she moved to a house next to her brother Ernest on Hamburg Cove.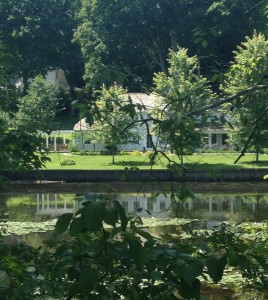 Daphne's home on Hamburg Cove. Photo Mandy Prue
During World War II, Daphne and her second husband Hans Poulsen lived in Waterbury, where they made munitions for the war effort.  Daphne joined her sister-in-law in a hand-painted drinking glass business in her home on Cove Road.  Perhaps making use of her Boxwood training, Daphne painted birds, airplanes, and sailboats on drinking glasses.  When Daphne's brother Ernest split up with his wife in 1945, Ernest and Daphne took half the business, and his wife took the other half.  Daphne built a small house on Route 156 next to the entrance to Nehantic State Forest.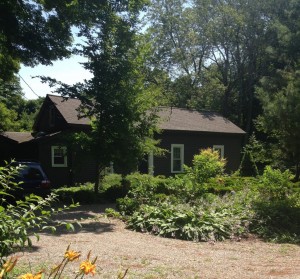 Daphne's home next to the entrance of Nehantic State Forest where she moved her glass business. Photo Mandy Prue
At this house, Daphne continued her glass business, "Ely of Lyme."  She hired a few local women to help paint the glasses, and they fired them in a kiln which Ernest had built in the house.  Daphne often traveled to New York City to sell the hand-painted glasses to stores such as Crossroad's Sports and Abercrombie and Fitch.  Ernest's ex-wife, her former business partner, sold similar glasses to the same stores under the "Carwin" label, maintaining a rivalry between the two businesses.
An "Ely of Lyme" glass painted by Daphne. Photo Mandy Prue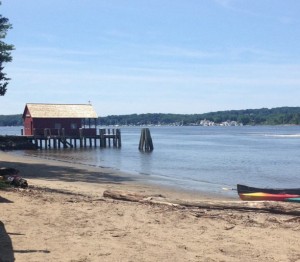 The view from Ely's Ferry, where Daphne would take a steamboat to New York. Photo Mandy Prue
When Daphne had to travel to New York City to deliver her painted glasses to stores, she would take a carriage down to the steamboat dock, at the end of Ely's Ferry Rd.  She'd then take the steamboat into New York.  On the way back, she would have a carriage meet her and bring her home.  Even before Daphne's glass business, she traveled often by steamboat.  Her travels would allow her to meet her second husband, Hans Poulsen.  They met aboard a ship on a transatlantic crossing when he was the ship's radio operator.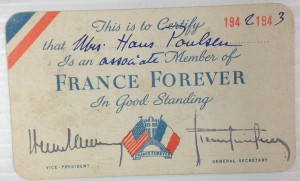 A World War II loyalty card to Mrs. Hans Poulsen from 1942 – 43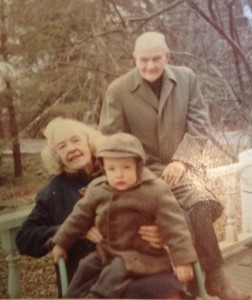 April 1966, Daphne and her husband Hans with their nephew Morgan Ely. Photo courtesy Morgan Ely
A valued member of the Lyme community, Daphne passed away at the age of 89 on April 20, 1981. Her spirited activities as a young woman have been preserved in the scrapbook she left behind.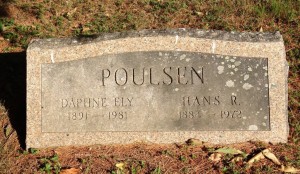 Daphne Ely Poulsen's grave in Ely Cemetery located on Tinker Lane. Photo Mandy Prue
Daphne's Obituary
Sources Interviews with Morgan Ely, Daphne's nephew http://www.newspapers.com/newspage/20357569/# http://search.ancestry.com/cgi-bin/sse.dll?rank=1&new=1&MSAV=1&msT=1&gss=angs-c&gsfn=Daphne+&gsln=Ely&msbpn__ftp=Lyme%2c+New+London%2c+Connecticut%2c+USA&msbpn=3377&msbpn_PInfo=8-%7c0%7c1652393%7c0%7c2%7c3242%7c9%7c0%7c2160%7c3377%7c0%7c&cpxt=0&uidh=up4&cp=0&pcat=35&h=11814147&db=1900usfedcen&indiv=1&ml_rpos=5 http://search.ancestry.com/cgi-bin/sse.dll?rank=1&new=1&MSAV=1&msT=1&gss=angs-c&gsfn=Daphne+&gsln=Ely&msbpn__ftp=Lyme%2c+New+London%2c+Connecticut%2c+USA&msbpn=3377&msbpn_PInfo=8-%7c0%7c1652393%7c0%7c2%7c3242%7c9%7c0%7c2160%7c3377%7c0%7c&cpxt=0&uidh=up4&cp=0&pcat=35&h=6758209&db=1920usfedcen&indiv=1&ml_rpos=1